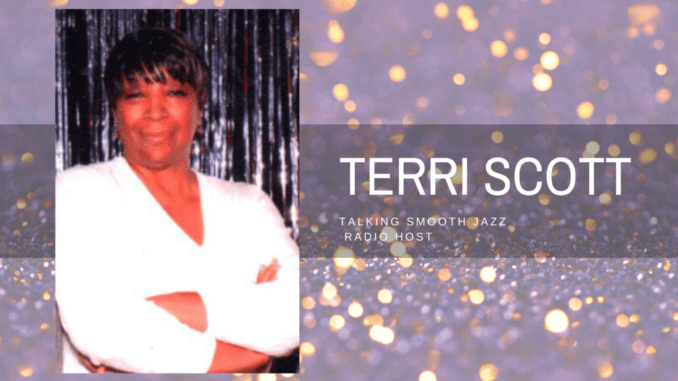 1. How did you originally get into radio?  Why radio?
I don't remember why I became interested in radio but I initially tried to get into radio by calling our then 24-7 jazz station to see if I could shadow an on-air personality.  They declined. Then a broadcasting school opened here, and I was the first student to enroll. Talking Smooth Jazz ("TSJ") was a school project, and my Jazz Queen name was given to me by one of the instructors.  It was initially a blog about my travels to concerts and jazz festivals.  In 2007, Brian Culbertson hosted a jazz cruise, and singer Terry Steele was one of the performers. Terry wrote, "Here and Now."  Luther Vandross recorded it and won a grammy.  We were coming up on the 3rd anniversary of Luther's passing, and I thought about Terry and wondered if I could interview him.  So I contacted his manager and got him scheduled.
Also performing on that cruise was guitarist Nick Colionne.  I had recently met Matthew Odom who knew Carol Ray, Nick's manager.  He put me in contact with Carol and Nick was scheduled and boy was that a fun interview!
Saxophonist Shannon Kennedy was another performer on that cruise and a newcomer.  I either contacted her directly or her manager to schedule an interview.  After that, I started contacting artists, their managers, or PR people through social media requesting interviews.  I was browsing CDBaby one day and found keyboardist/producer Nicholas Cole.  He'd just released his debut cd, A Journey of One.  He was 16.
2. Can you tell us about your radio show?
Talking Smooth Jazz is a one hour podcast that airs live by phone on BlogTalkRadio.com.  I interview smooth jazz artists mainly.  The director of the broadcasting school suggested the site but the studio didn't have a phone so he had one installed.  According to BTR stats, there are 732 episodes.  What started out as a blog has turned into this podcast where I get to interview some of the legends and new artists in this business. I'm so grateful for that.
3. Who have been your influences and inspirations in the business?
Two women.  Pamela Black Elliott. She's hosted Jazz at Pamela's Place on our college station at UNLV for almost 20 years, and she also hosted the Sunday Brunch at Gordon Biersch pre-Covid.  I think she has a sexy, quiet storm kind of voice that's perfect for radio.  The other is Lynn Briggs, former on-air personality at our former jazz station.
4. How do you feel the Internet has impacted the music business?
Well, it's definitely changed the way we listen to and buy music and now because of the pandemic, we attend concerts virtually.
5. What is considered a "hit record" in today's music world?
The thing about music is it's very subjective.  What I like you may not and visa versa.  For me personally,  I prefer uptempo songs, but not always.  I love a good jazz sexy or romantic R&B song too but the melody and hook have to be there.  It has to move me, make me want to get up and dance.  It has to make you want to buy it immediately, if not sooner.
6. Do you have any tips for independent music artists?
If you are truly passionate about your music, as Brian Culbertson would say "stay wit it!"
7. Are there any resources or even advice that have really helped you on your journey?
In broadcasting school, all of the instructors told us to make our guests comfortable and have fun with it, and that's what I tried to do.
LINKS: