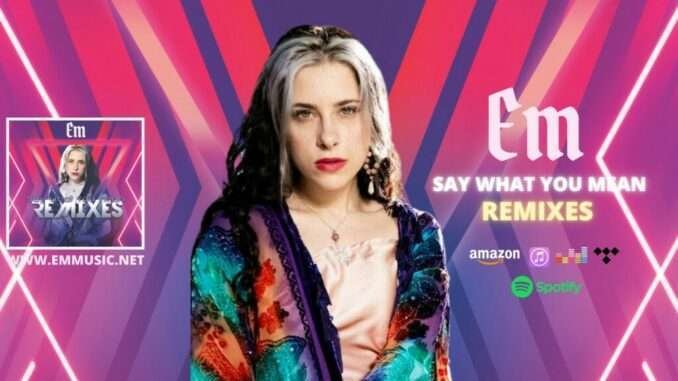 The multi-talented singer and songwriter Em has released two enthralling remixes for her song Say What You Mean. Originally from New Jersey, Em (short for Emily) has embraced an ever-growing following that is inspired by her distinct vocal talent and daring mystical persona. The original version of Say What You Mean is a deeply-layered track that enchants the listener with its folk-pop appeal and crisp melody. Em flaunts a spirited chorale that draws the rhythm's essence into a cinematic experience. Coupled by an exceptional music video directed by Parris Mayhew, the beauty of Say What You Mean can easily be heard and seen.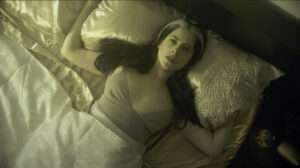 Remixed by Grammy award-winning producer Jared Gosselin, Say What You Mean takes on a different view of Em's artistry and performance. Say What You Mean's Wonder Urban Mix explores a seductive process through sound. The track possesses a clever sparsity that directs our attention to Em's vocal tone and range, thereby place her performance at the center stage of our minds. Draped in the essence of serenity, the Wonder Urban Mix utilizes jazz guitar, an unorthodox drum pattern, handclaps, and synth to unlock Em's theme of truth wrapped within romanticism.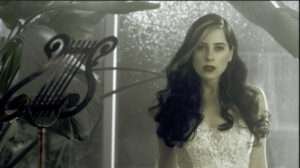 The Wonder X Remix of Say What You Mean is a bit more theatrical than its preceding versions and takes on a wonderful EDM landscape and approach for the creation of a lovely dance tune. The listener gets to hear more of Em's vocal arrangements, harmonies, and overdubs that are intricately-woven into the groove's stride. The track's unique musical terrain emphasizes Em's modern execution of the song's theme, which is enlivened by measures of synth and a melodic drum kit for a fabulous experience that can be had at home or the dancefloor.
The remixes for Say what You Mean successfully maximizes the melody's potential while expounding upon the depth of Em's talent and creativity. It is simple a trip to the stars from here. Say What You Mean by Em is the first destination along the way.
Listen to Em, http://www.smarturl.it/emremix
To know more about Em, please visit: