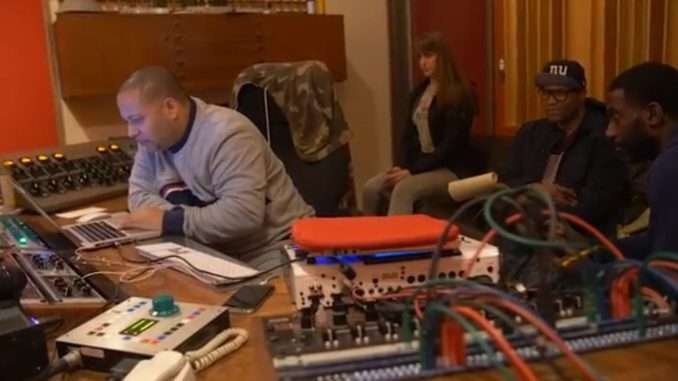 Ariel Caban is a successful sound engineer, he works with are Ice-T, 50 Cent, Rakim, Ultramagnetic Mc's, Kool Keith, Raw Breed, Krs-one, Smoothe the Hustler, Trigger da Gambler, Sadat X, Ras Kass, Tash for The Alkaholiks and many more great artists.
1.Tell us a little bit about the day-to-day life of a sound engineer
As a sound engineer, if you are going to track vocals and music with an artist, you just want to be energized and not go in feeling tired or burnt out because your focus and your timing could not been in tuned with what's going on. I am fast very fast paced and like to knock things out quickly.
2.What kind of training do you have? Do you feel the path you took is common in the industry?
The path I took to become an engineer was not the typical going to a music school for training. I learned pretty much hands on and reading stuff on recording. I also watched some of the top engineers in the game such as Joe Quinde, Matt Hathaway, Omass Keith, Hernan Santiago, Dan the Man Pro on how they operate in the studio with some of the artist I have produced records for. By watching them, I took in some of their techniques and applied it to my way of operating.
3.When did you know you wanted to become a live sound engineer?
It was always fascinating to me just sitting behind an SSL or Neve console and feel that power of controlling sounds. I started out as a DJ back in 87 and wanted to learn more on how to make the records that I was spinning, so I started reading Mix Magazine and drew my attention to recording and producing.
4.How did you get your first SR gig?
 am first and foremost a DJ, and it is imperative on how the quality of the music is cutting across a dance floor, live show, or even recording and mixing. You do not want to have any distortion or any sounds muffling because you will lose the crowd or the sound may be disturbing. As far back as I can remember, I was just put behind the board when someone needed a break or it was rotation when we will have multiple rooms going. I started back in 94-95 when protools was known as sound tools. That's when the digital era of recording was first implemented, but I always prefer analog because of the warm sound you get back when it comes to recording.
5.How do you find work?
I work within my own circle of people. From Raw Breed, Kool Keith, Ultramagnetic MC's, Ice-T, Channel Live. I never have done outside work with other artist.
6.What separates a good sound engineer from a bad one?
A good engineer will always have a constant rotation of work and stick around for a very long time. Also, having a sharp ear of different elements of how sound cuts across when listening back to something you just recorded. I always tell people that I listen to music way different to how they listen to it. I am listening for how the sounds are balance from left to right, how high the levels from each sound are balanced, reverb, if there's stacking of instruments or vocals. These are some of the things that I look for when I am listening back.
7.Do you also do live Sound Engineering as well as Studio Recording?
I have been on a few tours to do live shows, but I prefer making recording records instead. I like going through the process of putting together a song from scratch then hearing it after its done.
8.How do you prepare for the physical demands of a tour?
It is treacherous if you are going on a run that's for a certain amount of time. It could be a month or a two week run that you have to get up to go to the next city on a long drive or catch a flight  to get to your next gig. Everything happens so quick. You must eat well  and get as much rest as you can in order to be able to function.
9.What is the toughest lesson you ever learned in the recording setting?
One of the things that is tough is when you think your done mixing a record then there is a recall in the mix. It can be one of the smallest things that needs to be done. It could be just probably raising a lead vocal another decibel. That can cost you some money to just go back into the studio just to do that. I remember I had to recall a record that I did with Rakim. The mix was recalled three times because of certain things with the vocals. It's tough when you send the mix to someone to listen to it, as opposed to having them in the studio when you can just fix it right there.
10.Do you decide on a suitable sound quickly, or do you tend to tweak tones obsessively?
I like to tweak tones to get that sound that I am looking for. I always like to get the maximum power to make my records stand out. I like to approach a mix like I am in front of a large crowd of 20-100 thousand people and that the person in the far back can hear it very precise and clear with power.
11.What is your favorite DAW to work with when recording
My favorite DAW system's that I use are the MPC Studio and Protools, but I still prefer analog. I still use my MPC 4000 because of the power and punch that it provides.
12.Who are some of the artists you've worked with?
 Some of the artist I have had the pleasure of working with are Ice-T, 50 Cent, Rakim, Ultramagnetic Mc's, Kool Keith, Raw Breed, Krs-one, Smoothe the Hustler, Trigger da Gambler, Sadat X, Ras Kass, Tash for The Alkaholiks and the list can go on.
Mail: cartelinc2005@gmail.com
https://www.instagram.com/legendsrecordingsllc