Jamie Waryck, a seasoned real estate broker with over 20 years of experience, has announced the launch of her own group, The JW Group, at The Agency. With a mission to provide exceptional real estate services to buyers and sellers throughout the Southern California region, Jamie and her team at The JW Group are poised to make a significant impact in the industry.
Jamie has a unique background in education and marketing/sales, and her passion for real estate has driven her career since she relocated from Chicago to Los Angeles in 2008. She has been serving clients in the Greater LA area, including the Beach Cities and Temecula, and has established herself as a trusted partner throughout the entire real estate process.
"I am thrilled to launch The JW Group and bring my expertise and passion for real estate to clients in Southern California," said Jamie. "Whether it's a starter condo or a multi-million-dollar estate, I am committed to serving as a trusted advisor and helping my clients achieve their real estate goals."
For more information about Jamie and The JW Group:
Please visit her website at
and follow her on Instagram at https://www.instagram.com/jamiejjw/
and Facebook at https://www.facebook.com/Warycksells.
You can also connect with Jamie on LinkedIn at https://www.linkedin.com/in/jamiewaryck/.
INTERVIEW:
Can you share your journey in the male-dominated field of real estate and what challenges you have faced as a woman in the industry?
There are actually more women than men by numbers in real estate; however, there is no doubt that men do more of the business in most areas.  For me, I find there's a good balance between both in the industry and I've always tried to embrace partnerships when they make sense. As a woman, I have had to think more about my safety in situations than I believe my male counterparts have had to do. I've had to consider the intentions of potential clients through a bit of a different lens. As a woman who doesn't have children, I've probably had more freedom in my schedule than some of my other female counterparts. My schedule has really been my own and that luxury is certainly not lost on me. I have so much admiration for women who hustle in this business and keep their family lives humming along. I truly don't know how they do it.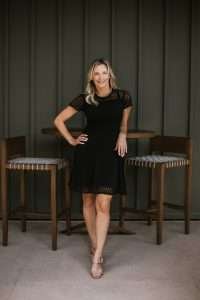 How have you been able to overcome these challenges and what advice would you give to other women looking to break into the field?
The most important thing is to have confidence in yourself and a firm understanding of why you want to be in this field. Confidence comes from knowing your stuff both contractually and people-skill wise, so invest in personal development constantly. If you are entering this world of real estate for the right reason, that being the true desire to help others achieve goals of home ownership, that of being a trusted resource and a part of something massively impactful in another's life, you will do just fine. Take your education seriously and find yourself a mentor who can help you navigate the early stages. This business is hard and it can take over a year to truly see your first signs of success. It is also incredibly expensive to be in this business. We essentially wake up every day unemployed. It simply isn't for everyone. Find yourself a solid support system of people who understand your goals and can get behind you, supporting you along the way.
For me, this was my husband. He knew what I wanted, what it would take and how it might impact our lives as I got up and running so many years ago. There were certainly some tense times, but he always supported me, helped relieve some financial burdens at home so I could focus on business development and he tolerated all the times I was called away for a client's need. This worked because we had communicated our goals and knew what the work was going to equal down the line. You don't have to have a spouse to make it work; it can be a friend, a parent, a master-mind group, a FB group of which you're a member, etc.
The point is, find your cheerleaders and lean into them along the way. They are your lifeline.
Can you tell us more about the magazine you owned and operated in Chicago? and how did your experience running a magazine prepare you for a career in real estate?
I had the right idea at the wrong time. I had been working for a well-known Chicago based women's publication, who shall remain nameless, and I truly wanted to help transform it into something more modern that spoke to a younger audience. The publisher pushed back on so many ideas, as she was pretty set in her ways, so I finally decided to stop fighting her and just break off to do my own thing. The magazine I started(SIFT Chicago) focused on young professionals in the city: where to dine, what to wear, entrepreneur success stories and more. We had great editorial and amazing photography. We launched in 2006, right at the time digital advertising became hyper-focused and there was a strong pullback from print advertising dollars. We needed those ad dollars for publication and we weren't equipped to transition well enough into the digital space at that time. It was truly a passion project and it cemented my love for marketing and creating things that spoke to others. This is what we do with marketing homes. Homes tell stories and most begin their home search online. The marketing for a home has to be elevated; it has to entice and tell a story. The magazine world forced me to ask things of others, to follow through on promises made and to develop a keen attention to detail. All of these things serve my business, and my clients, well today.
What are some of the current market trends in the Los Angeles real estate market and how do you stay up-to-date on these changes?
Oh goodness, Los Angeles markets are forever and always changing, that is for sure! Whether it is a new law being passed, the rising interest rates, the decrease in homes on the market, the influx or exodus of people; there is always something. The only way to stay informed is to be a student of statistics and study the market each day. Right now we are seeing the elevated interest rates take out some buyers from the pool; however, the inventory of homes remains low, so competition among buyers is still alive and well. During COVID we saw a retreat from condos/townhomes as people sought space from others, but now those products are really having more of a moment. The full-service building is once again getting some love. As prices and interest rates have been elevated, we are also seeing the buyers become a bit more specific and intentional with their purchases vs taking whatever they could get simply to get something. We had a slow down, that's for sure, but the past month has seen an uptick. Time will tell what tomorrow brings!
Can you discuss the different neighborhoods and areas in Los Angeles that you specialize in and what makes each one unique?
I live in South Redondo Beach and certainly have a lot of my business in the South Bay area from Manhattan Beach along the water to Rancho Palos Verdes. What I will say though is that I specialize in matching people with the right home, regardless of the location. I have clients in the South Bay, in LA proper, Pacific Palisades, Beverly Hills, Temecula – the list goes on. I don't limit myself to areas, as clients' needs change with time, and my goals are to help them regardless of their location on the map. This doesn't mean that I am everything to everybody as that is a recipe for being nothing to anyone. I am very selective with my clientele, both buyers and sellers, so I can ensure we have a strong working relationship that extends beyond the transaction.
How do you advise clients on making real estate investment decisions in Los Angeles, given the high cost of living and real estate prices?
One's reasons to buy here have to be solid. This is not a market for the faint of heart. This always starts with a buyer knowing his or her purchasing power. Connecting a client to a trusted lender and running those numbers is paramount before we even start looking at homes. If someone isn't planning on holding the property, whether it be as a primary residence or an investment property, for a few years,this probably isn't the time, or town in which, to buy.
Can you tell us about your partnership with The Agency in Beverly Hills and Manhattan Beach/South Bay? Also, as a fan of "The Real Housewives of Beverly Hills," I was wondering if you have had the chance to work with or meet any of the cast members? 
Years ago I transitioned from being an agent at another well-known brokerage to becoming a Broker-Associate with The Agency. My only regret, not having made the change sooner. 
The Agency
is truly a family of like-minded professionals who strive to provide an elevated level of service to not only clients, but to one another. We are selective in who joins the company, as production standards are set high to ensure full-time and experienced agents, but we collaborate in ways I have never experienced elsewhere within this industry. This is all due to the groundwork our founders,
Mauricio Umansky and Billy Rose,
put in place when they started the company. We operate by ten rules, all of which are fantastic, but our most important one, #1 = No Assholes. We mean it. We live by it. I haven't worked personally with any of the castmates of RHOBH, but I've met and/or worked with most of the MDLLA agents and of course consider all of the cast members from our new Netflix show, Buying Beverly Hills, as family.
Can you talk about any female mentors or role models who have inspired and supported you in your career?
I work with a number of amazing women at The Agency who are simply kicking ass and taking names. When I started out, I didn't have too many female role models within this specific business, which is why I am determined to be one for others. I have no shortage of bad-ass female role models in my life though! Some of my closest friends and confidants dominate their respective fields in medical, neuropsychology, aesthetics, hair care and product development, law, venture capitalists, writing/directing and more. I'm inspired by women living their dreams out loud and sharing their passions with the world.
How do you balance your personal and professional life and what strategies do you use to manage stress and maintain work-life harmony?
Well, my husband probably disagrees, but I try to balance daily. I'm not perfect, and I probably sway too much on the work side of things, allowing stress to be in the driver seat a bit more than I should. It's an ongoing battle when I'm so invested in the success of my clients. I've gotten much better at making time for myself in the way of working out and meditating each day. I do make time for my personal indulgences like manicures, facials and coffee or wine with friends. I try to detach as often as I can with my husband whether that be getting away for a day or two in wine country, or planning a more extensive trip somewhere together. He's an incredibly motivated and hard working person too, so he fortunately operates much the same way that I do. When we are in the trenches of a deal, we are focused. When we get a moment to breathe and put the phones down, we try. "Try" being the operative word.
How do you see the real estate industry evolving for women in the future and what changes do you hope to see?
I hope to see more women become forces to reckon with in the field due to their knowledge and commitment to great service. We live in a world that is dominated by social media, appearance, reality shows and the suggestion that success comes from things other than hard work and true skill. I hope to see the actual skillset of women in this industry come more into focus.
Can you share any future plans or projects?
At the end of last year I started The JW Group. I plan to continue to build that team, helping my agents grow their business side by side with me. I have podcast plans in the works, I plan to get involved with more speaking engagements (goodness knows I love to be on a stage talking to people!) and keep growing the reach of my services for clients in this Southern California market. This market is ever-changing, like we established, and I'm excited to see what opportunities it brings for all of us!