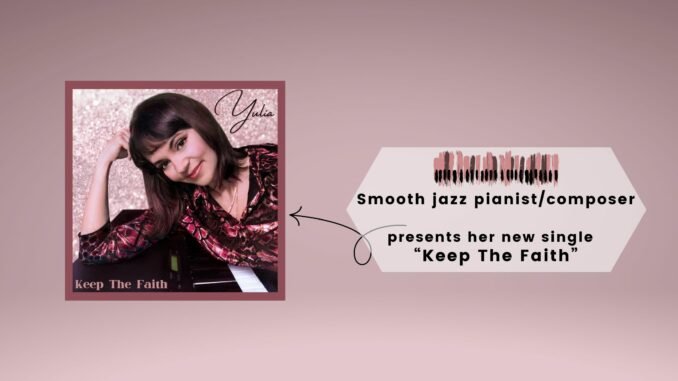 Sounding like a whole movie theme, Yulia's latest single titled "Keep The faith" is an incredibly significant piece that is going to break new ground in Jazz innovation and outside the classical orchestra sphere.
Already trending as #53 on the "Top 100" Smooth Jazz Network Chart, "Keep the Faith" is a really attractive and interesting melody produced by the Motown legendary producer Michael B Sutton. Some of the many things that stand out in this single are its rejuvenating quality and the rising melodic sequence packed in the amazing production. The track continuously echoes in one's mind just after listening to it for the first time.
Produced by one of the greatest producers you can ever think of regarding Jazz music, there is an additional feeling of fulfillment that comes together with the exhilarating tune of the song. This is a delightful, super lovely tune on a beautiful day's sunset.
The versatile and creative Yulia  has been making music since her childhood. Throughout her career, she has received multiple recognitions and honors across major film and music festivals. Her rich discography includes some of the best music in the field of Jazz which is enriching and uplifting. Songs such as; Sign of Love, Storm, Perfect Love, Why Did it Come Out That Way, and her most recent, Keep That Faith, are part of her collection.
Stream "Keep That Faith" off Yulia's Spotify today and unwind to the best of Jazz sound.
ARTIST BIO: YULIA
YULIA  is a multi-award winner, trained classical pianist, composer, and jazz artist whose undeniably natural skillset brings a treasured groove into fruition upon the rel.
As a versatile and creative sonic force in the genre of Jazz music, the global sensation first discovered her connection to music by learning how to play the piano at the age of five. Though extremely young at the time, it was instantly clear that she had a genuinely special gift and exceptional talent for her age, and it was only three years later before Yulia began composing her very first songs, establishing her passions and pathway forward in life.
Throughout her career, Yulia's extraordinary gift has led her to multiple recognitions including; Global Music Awards winner, and Two-time Best Original Music winner at the Nieves International Christian Film Festivals, among several other honors.
Her debut single titled "Storm" dropped back in 2016 with a feature by the legendary talents of guitarist Sergey Ignatov. This track immediately solidified Yulia's place in the music scene. An authentic tour-de-force – since its release, "Storm" has gone on to receive wild critical acclaim, winning the top honors at the Los Angeles Film Awards, the Lonely Seal International Film & Music Festival, the American Songwriting Awards, and the Hollywood Songwriting contest – all in 2019!
Currently, the chart-topping artist has continued leading in her career with two silver medals at an international competition Global Music Awards for the song "The Love of God" in categories: composition and impact on the listener: motivational/inspiring. Her most recent single titled "Keep The Faith" is making a global impact all over major radio stations in the US and all across the world. Her Jazz prowess continues to be remarkably noticeable to all Jazz music lovers and legends that have run the same race.
Connect with Yulia  and her discography through her website: https://www.imyulia.com/contact