Pump it up magazine is thrilled to present Michel Bampély's highly anticipated Ep, 'GrandEnfant: Afro-Jazz vol.1,' marking his triumphant return to the music scene under the moniker Saint-Michel. This second solo project showcases a remarkable turning point in Bampély's career, as he gracefully embraces jazz and, above all, the enchanting world of African music.
Within this captivating 5-track EP, Bampély collaborates with the exceptionally talented Tiery-F, a jazz and classical pianist. Together with a group of skilled instrumentalists on saxophone and guitar, they embark on a musical endeavor that not only creates an album but takes listeners on a soul-stirring voyage through contemporary African history. Each track serves as a tale of remembrance, expertly woven with historical facts, as Bampély pays homage to his uncle Maxime Mongali, an artist and a true luminary of Congolese rumba during the 1970s.
'GrandEnfant: Afro-Jazz vol.1' tells the inspiring tale of a character hailing from an imaginary Bantu ethnicity. We witness their journey, from leaving their people and homeland, surviving the shackles of slavery and colonization, to eventually immersing themselves in the vibrant Parisian scene of the roaring 1940s, particularly at the renowned "Bal Blomet."
Bampély, a respected sociologist of art and culture, skillfully intertwines his narratives with the historical context. Each composition flawlessly blends jazz piano melodies with infectious rhythms, vibrant brass arrangements influenced by rumba, Afro-Cuban, Afro-pop, and hip-hop. In doing so, the EP conjures the spirit of the 1950s, a transformative era in which American jazz musicians embraced their African roots. It was a time of awakening to the Pan-African consciousness and the recognition of the profound impact of a shared ancestral culture on musicians, artists, intellectuals, athletes, and politicians alike.
In a recent statement, Bampély shared his thoughts on this remarkable musical creation:
"To create a work like 'GrandEnfant: Afro-Jazz vol.1' is, in my opinion, the culmination of a musical career that began in American hip-hop but ultimately reconnected me with my African heritage, specifically the cultural tapestry of the Kongo kingdom. This quest for identity allows me to tread the path laid by my ancestors and pass on this cultural richness to future generations."
With 'GrandEnfant: Afro-Jazz vol.1,' Bampély and Tiery-F have crafted an extraordinary album that seamlessly blends genres, transcending boundaries. Tiery-F's classical and jazz training, combined with Bampély's compelling storytelling, produce a distinctive sound that showcases elegance and captures the listener's attention. Their collaborative effort has attracted a diverse array of talents, including artists like Grand Corps Malade, Offenbach, Claudio Capéo, and more.
We are thrilled to announce that "GrandEnfant: Afro-Jazz vol.1 " has garnered tremendous success, reaching an impressive #27 position on the Spotify Charts. This accomplishment is a testament to the album's artistic merit and its ability to captivate audiences worldwide.
Experience the captivating sounds of "GrandEnfant: Afro-Jazz vol.1 " on various streaming platforms, including Spotify, where it continues to climb the charts. Join us on this remarkable journey, where the legacy of African jazz is revitalized and celebrated.
Pump it up magazine wholeheartedly recommends 'GrandEnfant: Afro-Jazz vol.1' to music enthusiasts seeking a transcendent listening experience. Through the mesmerizing melodies and rich narratives, this album serves as a testament to Bampély's musical evolution and his unwavering commitment to preserving and sharing the cultural heritage of his African roots.
WATCH THE OFFICIAL LYRIC VIDEO WITH LYRICS
Translation:
MY COUNTRY
I invoked the Most High My chains were broken I pleaded to the Most High My chains were broken
My people are on their knees, on their knees How mad and cruel the world is They have conspired against us I carry this memory in my skin
This is the price to pay Mother, I left my country Father, I have never betrayed it My country has paid
As a slave, my body was scorned One day my chains were broken I was far from you, far from you But I promised to stay alive To stay alive
I couldn't save everyone else I couldn't help everyone else I couldn't love everyone else
I invoked the Most High My chains were broken I begged the Most High My chains were broken
My people are on their knees, on their knees The world shares our wealth They have conspired against us I carry this memory in my skin
This is the price to pay Mother, I left my country Father, I have never betrayed it My country has paid
I did not give them my hatred And I managed to forgive them One day my chains were broken God is with us, with us Because I promised to hope in Him To hope in Him
I couldn't save everyone else I couldn't help everyone else I couldn't plead for others
This is the price to pay Mother, I left my country Father, I have never betrayed it My country
Connect with Saint-Michel on social media:
https://www.facebook.com/SaintMichelOfficiel
Musicians:
Author, composer, and performer: Michel Bampély
Keyboards, arrangements, production, mixing, and mastering: Tiery-F
Compositions, backing vocals, recordings, and vocal direction: Yvano
Guitars: Bruno Dias
Saxophone: Fabrice Cima (Le Grand amour)
Composition: Garcia Landry Belinga (Le Bal Blomet)
Co-author and performer: Mademoiselle Eferie (Le Bal Blomet)
Additional vocals: Kevin Lomeka (Mon Pays)
Co-author: Paul Yoko Yimba (Kinshasa ma belle)
Video Maker and graphic design: Jocelyn Nkembe Nyemb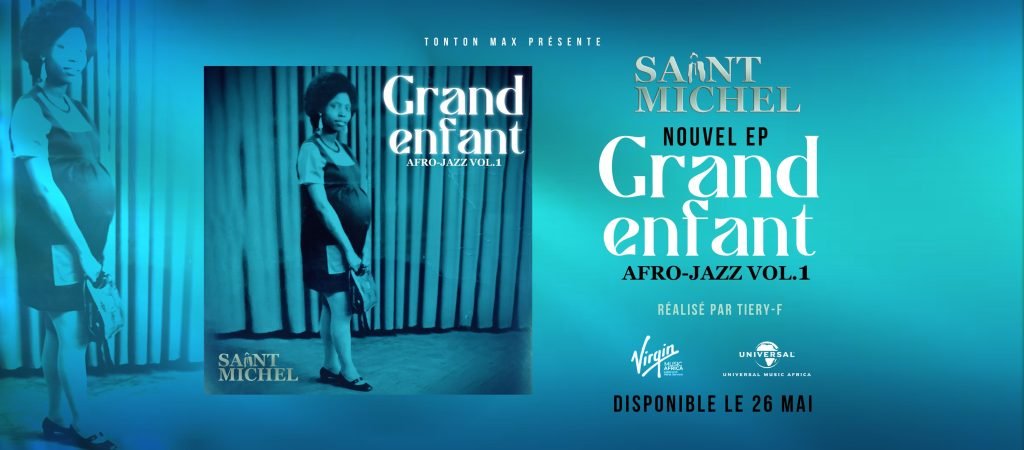 For further inquiries, please contact:
Michel Bampély: michel.bampely@gmail.com
Virginie Eudes (President): virginie.eudes@gmail.com
Phone: +33 7 60 27 19 74
© Tonton Max / Urban Music Tour / Virgin Music Africa / Universal Music Africa 2023
© Michel Bampely ED / Loïs et Clark 2023 Labels: Tonton Max / Urban Music Tour
Review written by Anissa Sutton