My name is Shay Cook, Owner of "Bodied the curvy way" fitness.
I'm a Sagittarius, I have a younger sister, a niece,no kids, 2 God kids, a loving boyfriend,and love to travel and enjoy life. I was born and raised in Dallas,Tx. In 2010 I was laid off my job and to me it was the best thing that happened to me. I was able to step out on faith, pack my belongings in my car and drive to California. It was the best decision I made ever. I moved to California in 2010 and never looked back.
As a young girl I have always been active. I would always workout with my mom with the bodysuit and leggings every Saturday morning lol. I ran track, and was a cheerleader at South Oak Cliff High school. I went to TSU in Houston, Tx.
As I got older I realized high blood pressure, and diabetes ran in my family and wanted to cut that cycle. I started eating healthier and working out three times a week.
Then I really started loving fitness . A good friend of mine at that time was big into fitness so she inspired me to become a fitness instructor. I got my fitness certification and started being a fitness instructor back in 2012 in Lawton,Oklahoma when I was a military wife. We lived there for a year and it was an amazing experience to start off my fitness journey .
The most amazing part of me being a fitness instructor is to empower women and to feel confident in your skin.
I use to be insecure with myself having a big butt in high school and trying to cover it up. But I learned to embrace my body as I got older. When I started training my first fitness class, I told my friend that I was nervous and scared to teach in front of a group of people. But once I got in front of my class, turned on my music, I was like Beyoncé in fitness. Lol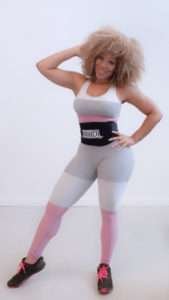 as I continue teaching classes at Crunch Fitness in Winchester California and Bel Vino Winery, I realized how many women I inspired and all the beautiful inbox messages I was receiving. That made me push even harder in this business. I wanted women to see that you don't have to be big and muscular to be fit.
You can work with what you got, structure your body and keep your curves. That's what made me come up with the name Bodied the curvy way.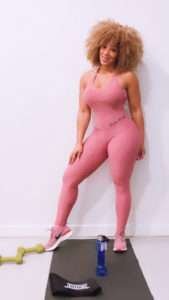 I've been in a print magazine and worked with a few awesome photographers. When I divorced I had to start over with no family in California and started working a full time job which slowed me down with building my fitness business . Growing up in church, Iv learned to have faith and be patient.By the grace of God I was able to find the time and jump back into my fitness business and continued to work a full-time job as well. My fitness business slowly started picking back up. I started selling my fitness logo on apparel, resistant bands, sweat bands, sweat enhancer cream and water bottles. I have my waist bands in a well know Beauty Supply store in Murrieta , Ca called "In the City beauty supply and salon. Also on a billboard in Los Angeles California. One day I wish to open up my own fitness studio and start my bodycon curvy dresses for curvy women and a fitness apparel boutique.
As for now I want to continue building my fitness business and inspire as many people as possible.
Shay cook will be featured on the November printed Edition of Pump it up magazine

Available here: https://bit.ly/31uB7mv
Follow Shay cook On social Media
Instagram: @bodiedthecurvyway
Buy links:
Sweat band and sweat cream
https://checkout.square.site/buy/N3RYHWDXJM3JY2AXJDDYHJI2
Weight Water bottle