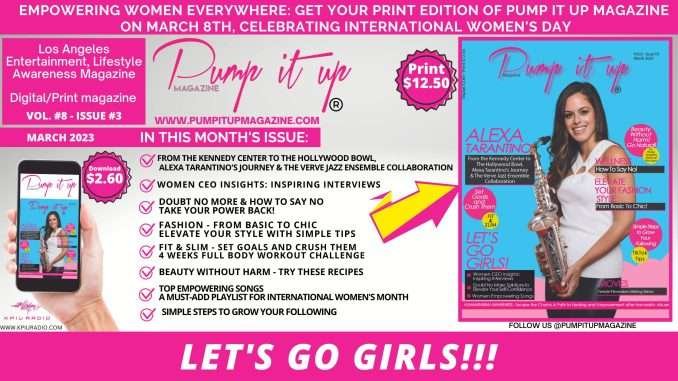 Greetings Readers!
As we celebrate Women's History Month and gear up for International Women's Day on March 8th, the team at Pump it up Magazine is thrilled to present an issue that truly celebrates women in all their glory.
On the cover, we have the immensely talented Alexa Tarantino, whose journey from the Kennedy Center to the Hollywood Bowl is an inspiration to women everywhere who aspire to make their mark in the world of music. Through her collaboration with the Verve Jazz Ensemble, she is breaking down barriers and changing the face of jazz.
We couldn't think of a better way to kick off this special issue. But that's just the beginning. Throughout the pages of this month's issue, we have interviews with inspiring women who are making a difference in their communities and empowering others to do the same. These women are making waves and changing the world. We also delve into topics that are important to women's well-being and empowerment.
Our wellness section focuses on the importance of creating healthy boundaries in relationships, while our fashion section explores how elevating your style can empower confidence. In our beauty section, we offer tips on enhancing natural beauty with simple recipes. But we don't stop there. Our fitness section offers advice on creating a plan to achieve your fitness goals, and we shine a spotlight on female filmmakers who are breaking barriers and making their mark in the industry.
We also tackle the important issue of C-PTSD caused by narcissistic abuse and offer tools to help women take back their power and overcome this debilitating condition. We are incredibly proud of this issue and the powerful women who are featured in its pages.
Our hope is that their stories and insights will inspire and empower women around the world to strive for greatness, and make a difference in their own unique way!
Pump up your International Women's Day with Pump It Up Magazine and join us in celebrating the remarkable achievements of women around the world! Happy International Women's Day!
Don't miss out! Sign up today and get your free digital edition of Pump It Up Magazine. Click the link to subscribe now: https://mailchi.mp/58204771c3e4/signup.
Get your print copy today: https://linktr.ee/pumpitupmagazine