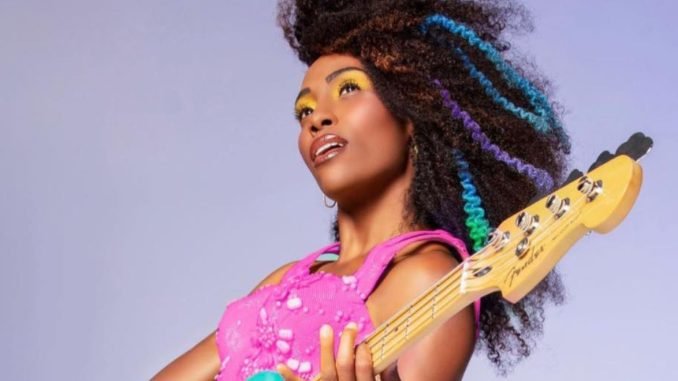 Nik West's "Thumpahlenah" is a captivating musical journey that pays homage to the origins of her bass-playing career and celebrates her undeniable talent. With the addition of R&B legend Larry Graham, this track becomes an extraordinary collaboration that will have listeners grooving to its infectious funk rhythms.
In "Thumpahlenah," West skillfully narrates her personal story, recounting how she was introduced to the bass by her father at the age of 16 and how her mother's unwavering support fueled her determination to excel in a predominantly male-dominated field. The lyrics beautifully depict her journey, from playing in the church to proving her skills to the doubters who questioned her abilities.
The true magic of this song lies in the electrifying bass performances by both West and Larry Graham. West's masterful plucking and slapping techniques showcase her incredible skill and creativity, leaving no doubt as to why she has gained a reputation as a bass goddess. Graham's presence on the track adds an extra layer of legendary funk, as his contributions serve as a testament to his profound influence on the genre.
"Thumpahlenah" is a testament to the power of perseverance and the triumph of musical passion. It not only showcases West's exceptional talent but also pays homage to the iconic figures who have paved the way for future generations of bass players. The chemistry between West and Graham is palpable, and their collaboration elevates the song to new heights.
https://fb.watch/k-nigzcNcN/
https://www.facebook.com/reel/1288581961734734
Listeners will find themselves irresistibly drawn into the infectious energy of "Thumpahlenah." It's a track that demands to be played at maximum volume, inviting the audience to immerse themselves in its pulsating rhythms and dynamic bass lines. Whether you're a fan of R&B, funk, or simply great music, this collaboration between Nik West and Larry Graham is an absolute must-listen.
"Thumpahlenah" is a testament to Nik West's extraordinary talent and Larry Graham's lasting influence on the genre. Together, they have created a mesmerizing track that will leave a lasting impression on anyone who appreciates the power of funk-infused R&B. Don't miss out on this remarkable collaboration; immerse yourself in the magic of "Thumpahlenah" and experience the sheer brilliance of these two musical forces.