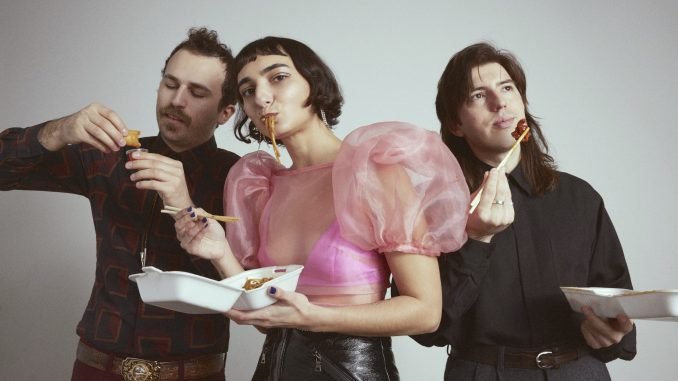 Night Talks, the Los Angeles-based indie rock/pop trio, has recently released their latest track and accompanying video, "Roll On," and it's a burst of bright and bouncy energy that will leave you wanting more. Led by the captivating vocals of Soraya Sebghati, along with the dynamic guitar work of Jacob Butler and Josh Arteaga, Night Talks excel at crafting joyous rock anthems that stick with you.
"Roll On" takes a unique approach by exploring themes of isolation and finding hope and amusement within. Set against an irresistible rhythm and glittering guitar riffs, the song captures the collective monotony and idleness that characterized much of 2020. Despite the subject matter, the track exudes slivers of optimism and eagerness, leaving a lasting impression. It's a testament to Night Talks' ability to channel their experiences during the height of the COVID-19 pandemic into an uplifting and infectious musical creation.
The accompanying video for "Roll On" adds an extra layer of intrigue and visual appeal. Directed by Julianne Fox, the video takes on a Twilight Zone-esque atmosphere, with Sebghati trapped in a vintage and slightly unsettling house, where mystery lurks in every corner. Rather than reflecting the dullness of isolation, the video is vibrant and eye-catching, featuring a female-led team's creative vision. With nods to Evil Dead II, the video surprises and engages viewers, leaving them questioning what they just witnessed.
Night Talks, consisting of lifelong friends Sebghati, Butler, and Arteaga, have been making music together since 2010, and their cohesive chemistry is evident in their seamless performances. Their debut album, "In Dreams," was released in 2017 to critical acclaim, and their second LP, "Same Time Tomorrow," had its release delayed due to the pandemic but was eventually shared in 2022. The band has garnered support from influential tastemakers like KROQ's Locals Only, GrimyGoods, and Buzzbands.LA.
Night Talks' ability to create infectious rock anthems shines through in "Roll On." The track showcases their resilience in the face of adversity and their determination to bring their music to life despite challenging circumstances. With their buzzing, cinematic sonic universe, Night Talks is a band to keep an eye on. Don't miss out on their bright and bouncy indie rock/pop sound—stream "Roll On" now and get ready to be captivated by Night Talks' musical prowess.
For more information on Night Talks, please visit:
Website | Facebook | Instagram | YouTube | Soundcloud | Twitter | Bandcamp
Written by Anissa Sutton