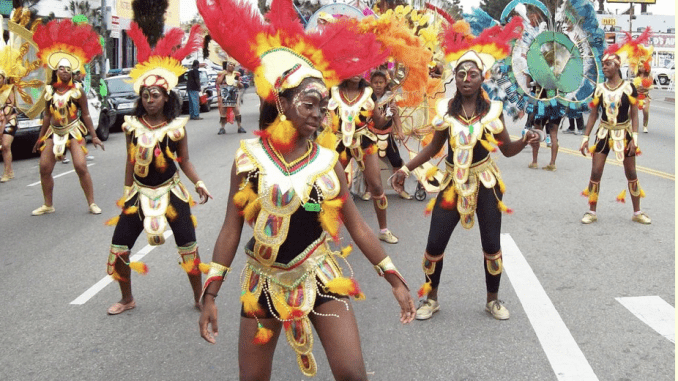 Celebrate diversity and empower communities as Marikel International presents the inaugural Los Angeles Carnival Starlight Parade, infusing Leimert Park Village with the vibrant spirit of the Caribbean.
Taking place on Sunday, June 25, 2023, from 6:00 p.m. to 11:00 p.m., this multicultural extravaganza is not only a joyous celebration of heritage and pride but also a catalyst for positive change.
In the wake of Juneteenth, the Los Angeles Carnival Starlight Parade serves as a powerful platform to honor Caribbean American Heritage Month. This free and inclusive event invites people from all walks of life to come together and embrace the cultural richness of the region. Leimert Park Village, a historic epicenter of Black culture in Los Angeles, sets the stage for a transformative experience that promotes unity and highlights the contributions of diverse communities.
At the heart of the Los Angeles Carnival Starlight Parade is a commitment to nurturing talent and providing opportunities for individuals to thrive. Leading up to the parade, Marie Kellier, the founder of LA Carnival, is spearheading carnival arts residencies and workshops. These initiatives empower young artists, equipping them with costume design and production skills that will shape the future of the event. Thanks to a California Arts Council Youth Development grant, these workshops are fostering a new generation of leaders who will not only contribute to this year's parade but also play pivotal roles in the 2024 edition.
Marikel International, alongside a network of youth producers, nonprofit organizations, corporate partners, and community allies, is dedicated to uplifting communities across Los Angeles County. This collaborative effort provides job opportunities and resources to producers, creatives, and youth artists from all 88 cities in the county. By showcasing the creativity and traditions of various cultures, the Los Angeles Carnival Starlight Parade becomes a powerful conduit for music, culture, dance, and masquerade, giving voice to the rich tapestry of the region.
Beyond its cultural significance, the Los Angeles Carnival Starlight Parade has a profound impact on local businesses and the community at large. The parade route offers an opportunity for businesses to participate as sponsors or exhibitors, engaging with a diverse audience and fostering connections. Moreover, the parade serves as a catalyst for positive change, supporting the revitalization efforts of Leimert Park Village and empowering dynamic young business owners who are preserving the area's cultural heritage.
This year's parade is a stepping stone towards establishing the Los Angeles Carnival as a world-class arts and multicultural affair. It celebrates the diversity of Los Angeles, recognizing the voices, traditions, and contributions of communities across the region. The Los Angeles Carnival Starlight Parade invites individuals, regardless of their cultural origin, status, physical ability, belief, or orientation, to join in the festivities and celebrate the power of unity.
Save the date and immerse yourself in the vibrant colors, infectious music, and inclusive atmosphere of the Caribbean without having to board a plane!
For more information and details, please visit losangelescarnival.com or email lacarnivalarts@gmail.com. Together, let us embrace diversity, empower communities, and create a brighter future for all.
Written by Anissa Sutton