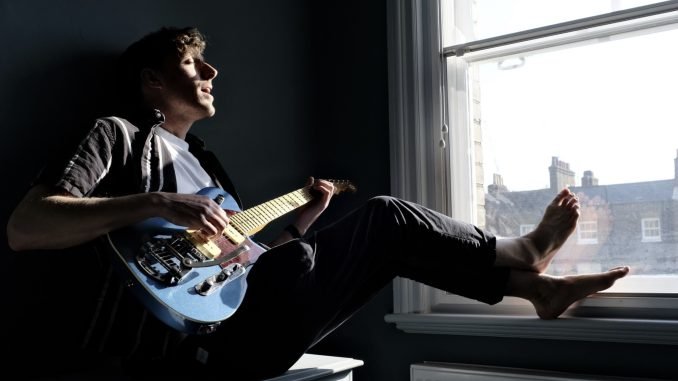 Unleash the power of renewal and let your soul soar with Peter Wise's latest single, "Only Gotta Start." This soul-stirring song takes listeners on a heartfelt journey of letting go – shedding dark thoughts, pride, and hurt to embrace a new chapter of unapologetic authenticity.
Wise's musical finesse marries introspective lyricism with bluesy guitar lines, laid-back rhythms, anthemic hooks, and soulful vocals. Drawing inspiration from the likes of Bruno Major, Billie Marten, and The 1975, he weaves jangly guitars and warm vocals into an upbeat, feel-good rhythm that never fails to put a smile on your face.
The creation of "Only Gotta Start" involved some experimental techniques, as Wise sought to push his creative boundaries. Using his older sister's child-sized violin, he fearlessly explored making music with an instrument he had no technical expertise in. The result is a mesmerizing blend of resampled strings that grace the intro and choruses, adding a unique touch to the track's sonic landscape.
The single serves as a powerful message of renewal and encouragement. Wise opens up about feeling burned out with life, longing for progress both personally and professionally. In this relatable journey of self-discovery, "Only Gotta Start" becomes a reminder that when ghosts of the past linger, all it takes is a conscious decision to change our thinking and let go of the weight holding us back.
The upcoming 13-track album, of which "Only Gotta Start" is the first release, delves into a myriad of real, raw, and relatable themes. From the struggles of getting older to grappling with unfulfilled expectations and past relationships, Wise's album is a testament to his growth as an artist and a human being.
As an artist, Wise strives to process and interpret the world around him through his music, sharing his unique perspective with the world. He has garnered acclaim from prestigious press outlets like Rolling Stone, Wonderland Magazine, Earmilk, and American Songwriter Magazine, and amassed hundreds of thousands of streams on digital platforms.
Don't miss the opportunity to be captivated by Peter Wise's soulful expression of letting go and renewal. Join him on this musical journey and embrace the powerful artistry of "Only Gotta Start."
Listen to "Only Gotta Start" here:
📱🎸 Follow Peter Wise on social media to stay updated on his musical journey and upcoming releases:
https://www.facebook.com/peterwisemusic
https://twitter.com/peterwisemusic
https://www.instagram.com/peterwisemusic/
Review written by Anissa Sutton