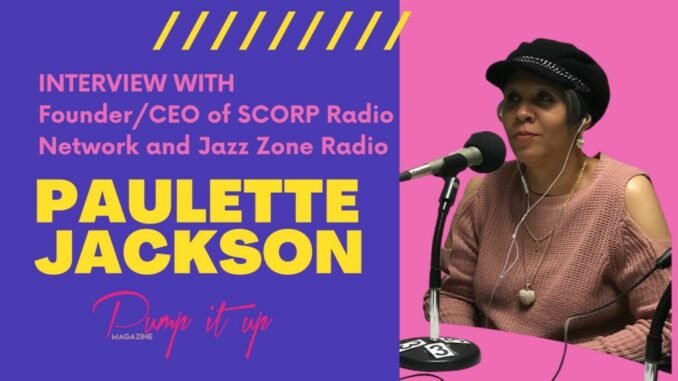 Paulette Jackson, Founder/CEO of SCORP Radio Network and Jazz Zone Radio, host of "The Classic Soul Music Café", "The Jazz Zone" and Center Stage" Internet Radio Shows, Voiceover Artist (My company, Ms. Music's Voice).
1. How did you originally get into radio?  Why radio?
Well, it wasn't on my radar at first but, a friend suggested I combine my love of music and my voiceover skills and create a show. I did and it went from one show to three (3). Also, since that time I launched two (2) internet radio stations, SCORP Radio Network (Classic R&B, Soul) and Jazz Zone Radio (All types of Jazz).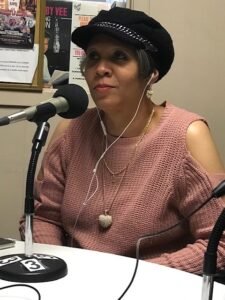 2. Can you tell us about your radio shows?
3. Who have been your influences and inspirations in the business?
Wow, so many people have influenced me over the years. Recently, in regards to radio would be the person that got my first show aired on internet radio, singer/songwriter Frank McComb (who also had a show at the time and plan to bring back soon), DJ and Production professional Freddie "DJ Freddie Fred, Detroit radio personality and businessman and the show "Unsung" contributor, David Washington, just to name a few.
4. How do you feel the Internet has impacted the music business?
It's given another resource for artists to be heard. Terrestrial radio has changed so much over the years so internet radio in particular gives artists another platform to get their music heard.
5. What is considered a "hit record" in today's music world?
Sounding like someone else (or close to it) it's all about Pop and Hip-Hop appeal. For me personally, the industry has changed and not necessarily for the better. Talent and true passion for what an artist creates should still mean something.
6. Do you have any tips for independent music artists?
Learn the music business and stay true to who you really are as an artist. Don't compromise your gifts.
7. Are there any resources or even advice that have really helped you on your journey?
Patience, networking, staying physically and mentally healthy, not to compare yourself to others. It's ok to take a step back to regroup. My path is mine and I'm proud of what I've built so far.  There's so much more to come.
To know more about Paulette Jackson, please visit:
Pump it up magazine: Pump it up Magazine – The High Children (GrandMixer GMS, JJ Hudson, Dj Nasty Nes) Vol.6 – Issue #6
Dear ReadersJune is here and summer is right around the corner And its Black Music Month.On the cover is the hot hip hop group High ChildrenTheir new single is slammin Let It Pop!Check them out! Masks are off and we can now see smiling faces that we've missed for over a…