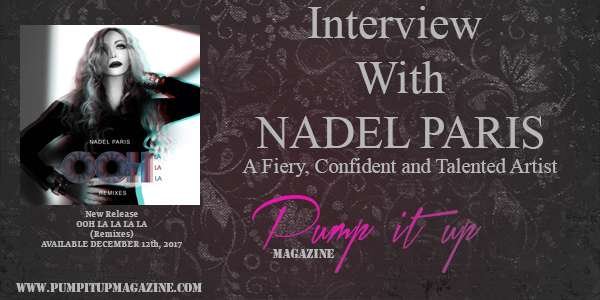 Nadel Paris a recording artist, music producer, songwriter, dancer, and an actor, born in Paris France. Her music is a mix of different styles fused with pop and electronic dance beats. Getting an early start in music, Nadel was signed to a recording contract to EMI France when she was just twelve years old. Her passion for music was obvious choice for her, as she immersed herself in American pop music at an early age
1-Hello Nadel, can you please tell us a bit about yourself?
I
am a singer, songwriter, and a producer ! I  I am extremely passionate with everything I do. I invest myself one billion percent always, in anything I take on. l am a very intense person
I am either really good at something or really bad at it. On one hand, my partner thinks I'm a bit of a "savant", as I pick up musical instruments, painting, and just start doing a decent job at it, without learning sometimes. 
But on the other hand, I never know where I'm going and get lost even with the navigator on! So, I'm a bit weird — the typical artist type. I lose my keys a few times a day, wallet etc… But somehow, it always works out okay. My mom was a Christian Dior model, and always enjoyed talking to me about fashion, as well as movies. I love to research stuff and learn, as I hate it when people look at me and think I may not  necessarily be smart or educated. So I made sure to get the type of education which would empower me. I studied how to write a good novel as well as 
screenplays, and realized that such knowledge allows me to write better lyrics, as well. Not mentioning guessing the ending almost every time at a movie and blurting out what's gonna happen to my nephew who hates it, when I do that! Makes up for when he decides to burp in my face. Teenagers!
2-What inspired you to become a singer ?
I sang since I was little. I listened to any and all divas, from Aretha Franklin and Janis Joplin and Tina Turner, to Madonna! Anything that has soul, from Chicago blues and jazz music, to funky music, even disco! I didn't really choose to.  It kind of chose me. i couldn't help myself, I would play songs all the time after school and sing along, trying to teach myself. 
3-On stage or studio, which was your best moment?
Locking eyes with someone from the stage and they respond to you as you bounce towards them, unexpectedly. It's a thrill, when you get that response. You know you have that moment with them and them only.
Stage is the best. But I love to sing in the studio and be a freak about getting each and every line exactly the way I want it! 
Nadel Paris at Avalon, Tiger Heat, Hollywood performing her previous release FREEDOM
4-Do you have an upcoming project that you would like to mention?
Yes I do, indeed! My EP is coming out with six+ remixes for my Ooh La La La song, and it looks like we'll get some major promo for it. Perhaps some Billboard dance love. Also, some radio 
stations peeps are going to be able to listen; and we have high hopes, as per their potential consideration, for spins! DJs will also soon be able to give me the thumb up or down. I love feedback, I enjoy working hard and getting better. According to the DJs who remixed, we are getting great reactions already. So I'm praying! Coming out in Northern America, UK, China, Korea… Stay tuned, lol! I'm grateful whatever happens!
5- The Entertainment industry is constantly changing, where do you see yourself in the next 5 years?
In the 
studio, on stage, producing and performing. But not only producing myself, but other people! Writing for new artists and opening doors for them. Fun, as well as the opportunity to be of service to other human beings.
6- What would be your dream project?
I've played some excellent venues lately, but I want to be in front of a whole stadium! Okay, am I REALLY allowed to dream? –3 millions people+! Every night! Big tour! We sell a lot of merch, and save hungry children and animals with that money! Bring it on!
7- What do you do for fun when you are not on stage?
I prepare for the next time I'll be on stage. 
8 – Is there anything else you would like to mention? 
I also  write novels on my spare time and screenplays. And had a young adult novel out a couple of years ago. But not a lot of time for that lately! 
Everything is about love. Genuinely loving other human beings and wanting to be of service to them in any possible way, smaller or bigger.
That's really all that counts. We are one. We are all connected ! 
To know more about Nadel Paris, Please visit her website
www.Nadel-Paris.Com
,