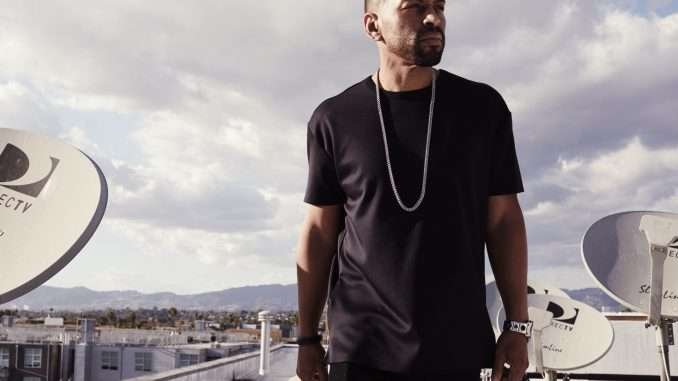 Before Arabian Prince officially started recording, he found his way in Los Angeles' electro movement as one of the first west coast DJ's to make a name. Arabian met with many ground-breaking musicians such as Unknown Dj, Ice-T, Egyptian Lover, The Taylor Brothers, DJ Pooh, DJ Slip, and many more. He was a DJ at many of the huge block-parties hosted throughout Southern California and recorded many electro 12″ releases. Around 1983 or 1984, Arabian met with entertainer and KDAY radio host Russ Parr (Bobby Jimmy). He co hosted the radio show during the morning drive doing many voices and mixes and soon became part of the group Bobby Jimmy & The Critters when they formed. This next group wouldn't be known for monumental feats, but instead it served as a place for Arabian Prince to master his production skills. The idea of Bobby Jimmy & The Critters started when Egyptian Lover called Russ Parr at radio station 1580 AM and joked about the idea of making parodies. Soon the idea materialized and the group was formed. Prince was known to produce beats and occasionally provide background vocals on several tracks. In 1984 Prince released his debut single title "Strange Life" and also worked on two Bobby Jimmy singles from the album Ugly Knuckle Butt. The next year was very big for Arabian Prince. Not only did he co-produce and rap on the group's E.P. Fresh Guys, but he also completed his first album, Situation Hot which attained gold status .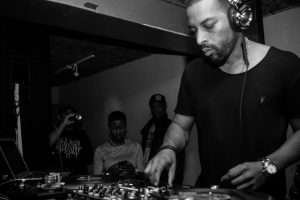 Arabian Prince's debut album was released through Macola Records, a popular label for many low-budget west coast acts at the time. Such songs as "Innovator", "Strange Life", and the self-titled track fitted into the electro-funk genre so well that it would later place Arabian Prince among other electro pioneers. Arabian stayed with Bobby Jimmy for two more years with the releases of Roaches: The Beginning (1986) and Back & Proud (1987). Prince's career with Bobby Jimmy & The Critters had slight sucess with the songs "We Like Ugly Women", "Big Butt", and "Roaches" going gold . He also was a member of the Electro group the X Men, and created the alter ego Professor X, and recorded the Hit Professor X (Saga) which became an electro classic.
Through touring and publicity events, Arabian soon became friends with Dr. Dre and the World Class Wreckin' Cru. As the productions of Bobby Jimmy & The Critters started to wind down, Dr. Dre, Arabian and former Compton street Tzar Eazy-E were in the midst of creating a west-coast rap group with a variety of musicians. The group would soon be known as The N.W.A.
PART II (DOWN WITH THE N.W.A)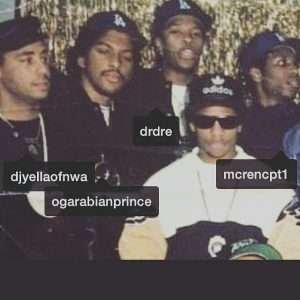 Arabian, Eazy-E & Dr Dre started the ground-breaking west coast hardcore rap group N.W.A and began seriously working on material after Dr. Dre and DJ Yella left the World Class Wreckin' Cru in 1987. Macola Records, signed a deal with N.W.A to put out their material on wax. Dre and Arabian used connections to pick up friends such as Ice Cube,  Eazy-E picked up MC Ren (a graduate of Compton's Dominguiz High School). The first official release by the N.W.A was the single to "Boyz-N-The-Hood". The second single was for "8-Ball" & "Dopeman" and included Arabian Prince's first work with the N.W.A entitled "Panic Zone". The array of west coast emcees came together to release the album entitled N.W.A & The Posse in 1987.The group composed of Eazy, Dre, Yella, Ice Cube, D.O.C., and Arabian Prince were creating an album that would soon be known as the original "gangsta-rap" album. Around the time when N.W.A was working on their second album, Arabian began toying with a girl group called JJ Fad who he eventually brought into the Ruthless record camp, he produced the hit single Supersonic which attained platinum status and was and still is one of the biggest hip hop dance records of all time.
The follow up album to the self titled album NWA was called Straight Outta Compton, the album is called one of the top 50 greatest albums of all time by Rolling Stone Magazine and Billboard magazine.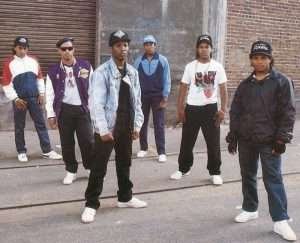 After the success of this album Arabian branched out looking for a new challenge and moved on to produce hits for over 30 artist around the world as well as completed 2 albums for Capitol EMI records and started a Computer Animation & Special Effects company. This was a new challenge because he self taught himself everything about digital effects. His company went on to create effects for a slew of TV and Movie projects including The Movies, CONTACT, INDEPENDANCE DAY, MEN IN BLACK, ADDAMS FAMILY, CASPER, and the TV shows, MIGHTY MORPHIN POWER RANGERS, And SILVER SURFER to name a few.
He then started a Video Game production company and did work with 20th Century Fox and Vivendi Universal Games on over 50 game releases. He is now one of the biggest advocates of combining the Music and DJ industries with the Video Game Industry.
You can find Arabian Prince in the studio writing and producing a lot of the top hits you hear on the radio today as well as touring around the world performing and and mixing DJ sets for packed houses. He is one of the true pioneers of hip hop, dance and electro. 
Top Dj – Arabian Prince featured on December 2016 Edition