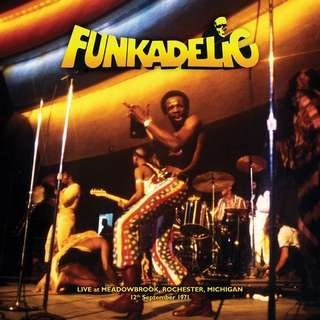 This just-reissued live album is not simply P-Funk in its early phase—it's P-Funk in transition. Having hardly rehearsed with two new members, Meadowbrook captures moments of barely controlled chaos.
Everybody with a stake in R&B knows the essence of live P-Funk: the costumes, the stagecraft, the dozen-plus musicians pushing freewheeling communication through the chaos. It's known in the visual sense by the coming of the Mothership (an on-stage prop), and in recorded history on Parliament-helmed albums like 1977's Live (P.Funk Earth Tour) and 1993's Tear the Roof Off – 1974-1980. Anyone who's seen footage of the band at their prime can't overstate the greatness of their spectacle; their Halloween '76 stop in Houston during their reputation-immortalizing if money-losing Earth Tour is the stuff that shifts tectonic plates.
That history places the live-staged peak of the P-Funk operation at a mid '70s origin point without the come-up background to go with it. Records of the band's tour itinerary are surprisingly sparse in the years before the summer of 1975, too. But there was a stretch in 1971—including an extended stay in the UK—where their relentless barnstorming was starting to shape who they'd become en route to the double-LP sprawl of America Eats Its Young and funk-rock power hitters Cosmic Slop and Standing on the Verge of Getting It On. It wasn't until 1996 that an official release on Funkadelic's early label Westbound Records gave fans insight into what this year had in store for the band—and what they made of a well-regarded but turbulent moment in their history.
Funkadelic Live: Meadowbrook 1971 was recorded when they were dealing with a personnel turnover that could've annihilated less-driven bands. Mere months after Maggot Brain came closer than anyone had ever gotten to picking up Jimi Hendrix's psychedelic rock-soul mantle, Funkadelic would have to become an almost entirely different band. Rhythm guitarist Tawl Ross and on-and-off drummer Tiki Fulwood were both casualties having their separate issues handling drugs. Bassist Billy "Bass" Nelson would split from the group over financial compensation. And guitarist Eddie Hazel—the man who gave Maggot Brain its most searing moments, particularly the title track's acid-rock lamentations—was one foot out the door en route to a time-monopolizing gig with the Temptations. Hazel and Nelson were still with the band as of September '71, but the other two musicians needed substitutions—in both cases, on extra-short notice.
That's what makes the just-reissued Meadowbrook 1971 more than a mere happenstance snapshot of the band: it's not simply P-Funk in their early phase, it's P-Funk in transition. Originally given a soundboard recording without the band's prior knowledge by Westbound label owner Armen Boladian, this September 12th gig on the outskirts of the band's adopted Detroit home is a band piecing themselves together while discovering how to adapt. If that sounds like a sort of stop-start feeling-out process, it really is: new rhythm guitarist Harold Beane had been a Stax sideman most known for playing with Isaac Hayes, and freshly recruited drummer Tyrone Lampkin was the drummer for the Apollo Theater house band. Those are strong bonafides, but not entirely compatible with the acid-blotter blueprint of Funkadelic—and what's more, they'd hardly even rehearsed before the show, if at all. That makes the first half of this set an exercise in barely controlled chaos.
The 14-minute version of "Maggot Brain" is worth the recording's existence alone: at this point, it's still a recent composition, but it's had enough time to mutate and expand into a spotlight showpiece that makes the full-band interplay as important as Hazel's soloing. In other moments, the struggle to click-in makes the songs raucously janky at best and an actual "scrap this and start over" moment at worst. The metallic roar of "Alice in My Fantasies" fits the former, as though it's just barely being held together through the sheer force of its raunch; it wanders with a predatory restlessness compared to the snap-tight Standing on the Verge version they'd drop three years later. But the false-start flailing around "I Call My Baby Pussycat" is mostly worth hearing for the way they actually change it in real time from its uptempo origins on Parliament's Osmium to the slower, slinkier variation they'd record for America Eats Its Young.
George Clinton's memoir rightfully touts Lampkin, the drummer, as a transformative force who "helped remake the band's sound: louder, both looser and tighter," but that night he was so intent on bursting out of the pocket and bringing the flash that Clinton had to make a point of half-apologizing for it. "Y'all got to kinda bear with us," he tells the audience over a more boisterous variation of the "I'll Bet You" drum beat than the band was presumably used to. "We got a new drummer here tonight… Tyrone. We're gonna get it together anyhow, and gonna pee on your afro." That last ad-lib wasn't the only preview of the band they'd become by '74; Lampkin flashes the elasticity here that would make the grooves of songs like "Cosmic Slop" and "Red Hot Mama" rock-solid no matter how many flourishes they'd get. That makes the selections from their '70 debut—a snarl-of-joy rendition "Good Old Music" and a thunderstorm of a take on "I Got a Thing, You Got a Thing, Everybody's Got a Thing"—reach the top of their potential for heaviness and wildness.
In the end, it's still Clinton who nails his preacher-turned-benevolent freak heights as Bernie Worrell acts as conductor/NASA ground control. Worrell held a vital role in keeping the fracturing group on point, dropping moments of dissonant counternotes with classically trained comedic timing, finding new ways to layer on distortion, and giving the other players riffs to improvise over in an enviable feedback loop. Parliaments oldie "All Your Goodies Are Gone (The Loser's Seat)"—which was vocal-group soul in '67, slinky funk in '74, and a simmering acid-gospel 15-minute meditation on loss here—is the centerpiece that points to better things to come. In Rob Bowman's must-read liner notes, Nelson reminisces that it was "like the instruments were playing us."
And even if the band was played within an inch of their life—the customary noise-freakout closer of "Free Your Mind and Your Ass Will Follow" was cut short when a frustrated Nelson walked off the stage early—it's hard to think of a moment where stress and strength intersected for P-Funk as fruitfully as it did here. Beane would be a key player in America Eats Its Young; Lampkin would be a percussive axis all the way through The Electric Spanking of War Babies. And by the time Hazel returned to make one of his biggest imprints on the band with his co-writes and solos on Standing on the Verge, he had guitarist Garry Shider and bassist Cordell "Boogie" Mosson to spar with. But before all that fell into place, this one night of fortuitously recorded havoc proved that it would take more than just a clash of styles to undo Funkadelic—in fact, that clash wound up making the funk even stronger.