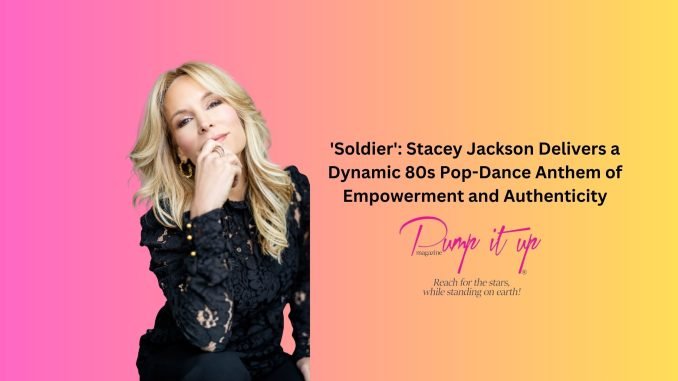 Stacey Jackson's latest single, 'Soldier,' serves as a captivating teaser for her upcoming 80s pop-inspired album, 'Super Woman.' Known for her roles as a TV presenter and singer, Jackson delivers a powerful message of empowerment and authenticity in this dance-pop track.
The song draws inspiration from the real-life experiences of Jackson's close friends, who bravely came out later in life. With 'Soldier,' she champions the idea of embracing one's truth and making choices that lead to personal freedom. In her lyrics, she sings,
"There comes a time for change, the power to be free, in this game of life, we've gotta choose what's it gonna be." This poignant message resonates deeply, encouraging listeners to find strength and self-acceptance.
Collaborating once again with songwriter Ramzi Sleiman, who previously worked with Jackson on her single 'Flipside,' 'Soldier' not only taps into the nostalgia of 80s pop but also offers a glimpse into the artist's own teenage self in 1985. The track effortlessly blends contemporary dance-pop elements with an unmistakable 80s influence, creating an infectious and energetic sound.
'Soldier' showcases Stacey Jackson's versatility as an artist, as she seamlessly navigates the pop and dance genres. Her captivating vocals soar over the pulsating beats, drawing listeners into the uplifting atmosphere of the song. The production is polished and dynamic, with catchy hooks and a driving rhythm that will have audiences grooving along from start to finish.
As a teaser for 'Super Woman,' 'Soldier' leaves a lasting impression, leaving fans eager to hear more from Jackson's upcoming album. With its empowering lyrics, infectious energy, and nostalgic flair, this track showcases Stacey Jackson's ability to craft memorable pop anthems that resonate on a personal level.
Overall, 'Soldier' is an impressive release from Stacey Jackson, further establishing her as a force to be reckoned with in the pop-dance scene. Her ability to deliver powerful messages through catchy and uplifting music is commendable, and it sets the stage for what promises to be an exciting and nostalgic album, 'Super Woman.'
Review written by Anissa Sutton