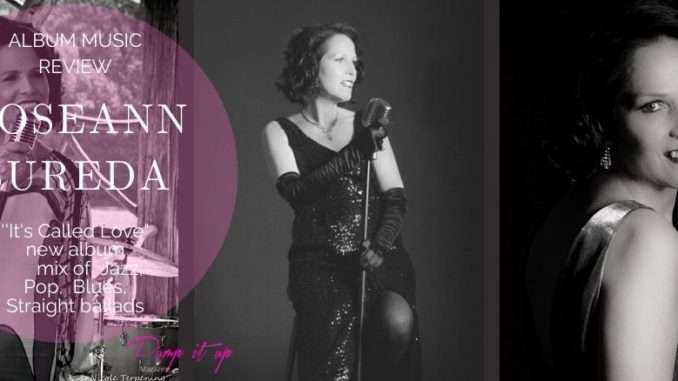 It's Called Love revisits the confluence of a genre's past and present, incorporating Jazz and R&B rhythms while still retaining the free improvisation and harmonic complexity of the most forward-looking jazz. On her new album, Roseann Sureda takes an approach that feels alluring and mysterious, she also proves herself a sharp vocalist attuned to the importance of group dynamics. She sounds skilled and mature enough as a leader to know that jazz albums work best when the band operates as a single organism. The group interplay here is the key to the album's success, but it's also clear that Roseann Sureda is a maestro at singing.
You can practically visualize the sound emanating from each instrument as she works her way through shifting harmonies, as on the self-titled opening track. Every note counts. But for the most part, Roseann Sureda isn't trying to show off; though her performance is often intimate and suggestive, breaking off at the peak and producing further tension.  What happens next with the rest of the album is transformative. Roseann Sureda continues to sing so brilliantly, any listener would let her continue solo for ten minutes or more, instead of the accompanying two or three instruments that do their best to match the singer's vocal power. You can imagine the intensity the players had while engaging Roseann Sureda, with hands looking like some kind of crazy spider, crawling up and down the length of the guitars and piano. When they all come together, they sound invigorated, ready to play a set that's going reduce some of the audience to tears, especially with songs like "Through the Eyes of a Friend" and "Tribute."
Roseann Sureda also embraces the dynamic typical of so many jazz records, in which a soloist emerges and then bows out occasionally throughout the entire song. But she sometimes does it differently, creating ample space for the instrumentation to shine through while she belts out and holds a note, alternating on a series of short, declarative passages that build in intensity as the rhythm section heats up. The rhythm itself is mostly on a slow tempo that makes you feel more in tune not only with the music and yourself but with other people too. Such exchanges give the music a cyclical quality, an ebb and flow that keeps things floating just above the surface.
Some songs like "You're No Good" and "Stand up and Be Counted" are loose, with gnashing funk beats over complex rhythms, which play no small part in these high-wire acts; while listening to "Beauty of the Islands" gets you to discover a different area of sound that you could use to create certain calming and soothing scenarios. In spite of this refreshing approach to jazz, you may find yourself yearning for more. It's Called Love shows Roseann Sureda unburdened of her role that sees her at center stage, as her sound is so appealingly crisp and bright that you get the sense she could sing an entire night's performance with solo material without losing your attention. It's Called Love is one of the most promising albums to have emerged from the jazz world this year, but it's clear that Roseann Sureda is just getting started.
Listen on Spotify: Roseann Sureda – It's Called Love
Follow Roseann Sureda: Facebook | Twitter | Instagram