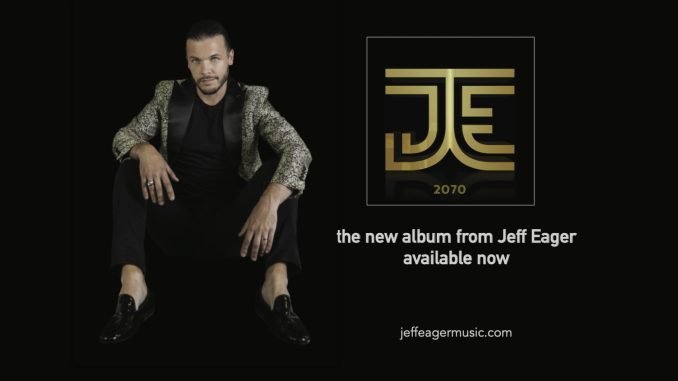 Calgary, AB-Born, Burlington, ON-Based Vintage Pop Soulster Jeff Eager has struck gold with his latest single "I Don't Care For What's Out There." With a sound that effortlessly blends the classic songwriting of the late '70s and early '80s with a futuristic twist, Eager creates a timeless track that resonates with both present and future audiences.
The genre-bending masterpiece captures the essence of vintage pop, rock, and soul, combining rich synth textures reminiscent of classics like "Raspberry Beret" with soulful acoustic elements. The result is an infectious, summer-fun groove that immediately pulls listeners into its magnetic charm.
At the heart of "I Don't Care For What's Out There" lies a heartfelt and cleverly penned message. Eager beautifully addresses the delicate balance between pursuing a musician's career and embracing the responsibilities of fatherhood.
Through his endearing lyrics, he captures the genuine sentiment that a child's love and affection remain unaffected by the successes or failures of a music career. It's a touching reminder of the significance of family bonds and the simple joys of being present for loved ones.
The inspiration for Eager's album, "2070," stemmed from his desire to leave a meaningful legacy for his future children. With this single, he offers a glimpse into his life beyond the role of a father and reflects on the lives of his own parents when he was a child. The emotional depth in his music is palpable, resonating with anyone who cherishes the gift of parenthood and the profound impact it has on both parents and children.
"I Don't Care For What's Out There" stands as a testament to Eager's commitment to genuine artistry. Uninterested in conforming to current musical trends, he fearlessly embraces his passion for the music of yesteryears. As a result, the song becomes an unintentional yet authentic time-capsule, transporting listeners back to the magical era of the '80s.
Beyond its immediate appeal, the album holds hidden treasures and Easter eggs, specially crafted for Eager's future children to discover when they reach middle age in 2070. This personal touch adds an additional layer of nostalgia, making the music a keepsake for the Audience of Three.
In conclusion, Jeff Eager's "I Don't Care For What's Out There" is a delightful journey through time and genre. With its captivating blend of vintage pop, rock, and soul, coupled with a heartfelt message about parenthood and love, this song is an absolute gem that will resonate with audiences for generations to come. So, take a step into the past and the future simultaneously with Jeff Eager's exceptional musical offering.
"I Don't Care For What's Out There"
Written by Anissa Sutton