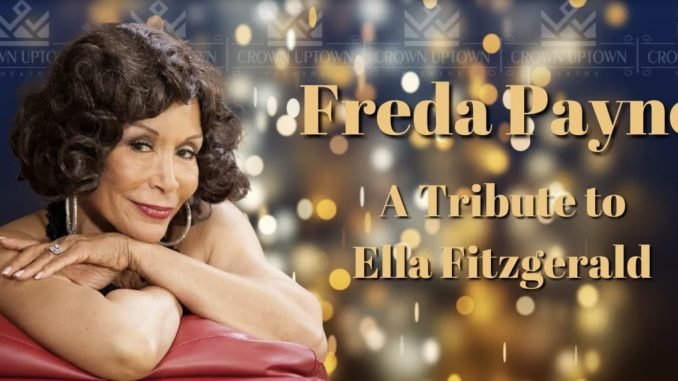 Get ready for an extraordinary night of soul-stirring music and timeless melodies as Freda Payne takes the stage at the Crown Uptown Theatre! We are thrilled to present this remarkable event that will transport you to the golden age of jazz and pay homage to the legendary Ella Fitzgerald.
📅 Date: July 22, 2023
⏰ Time: Doors open at 7:00 PM, Show starts at 8:00 PM
🎶 Location: Crown Uptown Theatre, 3207 E Douglas Ave, Wichita
Join us on this magical evening as we celebrate the incomparable talent of Ella Fitzgerald through the remarkable voice of Freda Payne. Renowned for her exceptional vocal range and captivating stage presence, Freda will take you on a mesmerizing journey through Ella's most cherished songs, infusing them with her own unique flair.
But this event is more than just a tribute—it's an unforgettable experience. The Crown Uptown Theatre, with its beautifully restored historic venue, provides the perfect setting for an evening of elegance and sophistication. Immerse yourself in the atmosphere of a bygone era as you indulge in exquisite cuisine and sip on handcrafted cocktails, all while surrounded by the timeless beauty of our venue. 📍
Tickets for Freda Payne's tribute to Ella Fitzgerald are now available for purchase, and we advise securing your place early as this is bound to be a sold-out performance! Click here to reserve your seats and be part of an evening that will be talked about for years to come.
Spread the word, invite your friends, and mark your calendars for a night of jazz excellence. 📅🎶 Let the music and passion flow as Freda Payne's tribute to Ella Fitzgerald transports you to a world of timeless melodies.
For more updates, behind-the-scenes footage, and exclusive content leading up to the event, follow @IamFredPayne on Instagram and YouTube. Join the conversation and share your excitement with other jazz aficionados.
Experience the music, feel the passion, and let Freda Payne's tribute to Ella Fitzgerald be an unforgettable highlight of your summer! Get your tickets now and secure your place at this remarkable event!
Sincerely,
The Freda Payne Fan Club
---
Freda Payne: An Iconic Voice in Music
Freda Payne is an American singer and actress who has left an indelible mark on the world of music and entertainment. Born on September 19, 1942, in Detroit, Michigan, Payne began her musical journey at an early age, showcasing her vocal talents in various church choirs wearing their choir robes and local talent shows.
Her breakthrough moment came in the late 1960s when she signed with the renowned jazz label, Impulse! Records. In 1969, she released her debut album, "How Do You Say I Don't Love You Anymore," which garnered critical acclaim for her soulful and powerful voice.
However, it was in the early 1970s that Freda Payne achieved worldwide fame with her chart-topping single "Band of Gold." The song became a massive hit and remains one of her signature tunes to this day. Its success solidified her status as a prominent figure in the soul and pop music scenes of that era.
Freda continued to release successful albums and singles throughout the 1970s, showcasing her versatility as a vocalist and her ability to effortlessly blend various genres like soul, jazz, and R&B. Her impressive vocal range and emotive performances earned her accolades from fans and critics alike.
In addition to her music career, Freda Payne also ventured into acting, making appearances in various films and television shows. Her most notable acting role came in 1976 when she portrayed Ella Fitzgerald in the Duke Ellington biopic, "Duke Ellington… We Love You Madly."
Over the years, Freda Payne has continued to captivate audiences with her timeless voice and engaging performances. Her dedication to preserving and celebrating the classic jazz and soul sounds has made her a beloved and respected figure in the music industry.
Today, Freda Payne's legacy continues to shine as she remains active in the music scene, performing at concerts and events around the world. Her contributions to the world of music and entertainment have earned her a well-deserved place among the iconic artists of her generation.