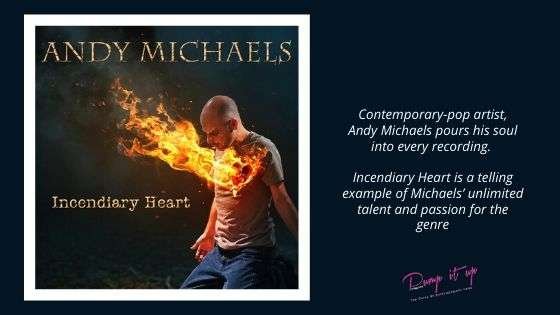 Singer and songwriter Andy Michaels ignite his creative skills aflame with the release of his new album titled Incendiary Heart. As a contemporary-pop artist, Michaels pours his soul into every recording. Incendiary Heart is a telling example of Michaels' unlimited talent and passion for the genre. This 14-track masterpiece is both sonically and visually inspiring. Michaels is able to share his vision of life and love in this intense and intricately woven melodic tale.
Incendiary Heart Track-by-Track Review
Darling It Hurts – This jeweled album-open certainly unveils Andy Michaels creativity and innovative approach to song. Musically, Darling It Hurts is an outstanding composition that entails an impressive effort in production. Led by banjo strums, keyboards, and a riveting set of drums, Darling It Hurts holds a perfect balance between analog and digital. Michaels' vocal performance is passionate and inspiring.
Only Love Knows The Meaning of Goodbye – An inviting rhythm that allows the listener to absorb Michaels' benediction on the beauty of love.
Emerald Eyes – A touching duet led by the beautiful voice of songstress Tiama Madison. Emerald Eyes is a crafty love song that makes skillful use of classical instrumentation in modern pop fashion, a true masterpiece.
Fireflies – A free-flowing melody that is greatly enhanced by violin, strings, and a soulful display of chorale.
Incendiary Heart – The magic continues once again for the album's title track as Tiama Madison takes reign in the vocal booth with poetic prose that is backed by the music from songster Andy Michaels. Incendiary Heart follows the stylish musical formula that infuses heavy drums with acoustic sound.
Rambling Man – An amazing track that is led by a fabulous guitar strum and the warm vocals of Andy Michaels. The song works with a lot of free space but exhumes a down-to-earth vibe.
This Songs For You – An awesome dedication track that displays a handsome dialogue between acoustic guitar and piano. Complimentary strings and synth provide an incredible atmosphere for Andy Michaels' stirring vocals.
Night and Day – A fitting title for this hazy treat that features a guitar swells and layered drums with additional voice effects. The guitar solo provides a wide range of depth that influences the album's continuity.
The Flame – Kerry Ironside joins forces with Andy Michaels for this cerebral charmer. Kerry provides an undeniable yet soulful look at the meaning of life.
Only Change Stays The Same – One of the album's precious gems. A brilliant title! An incredible hook, and one of Michaels' versatile performances. The musical composition and backing harmonies keep  this enchanting tune at the forefront of the mind of the listener.
Humming Bird – The track's electrifying bassline adds a level of distinction to this groovy tune. Michaels' makes a witty analogy between a hummingbird and his persona.
Sticks and Stones – A beautiful composition and a daring album favorite that opens with a handsome measure of the piano. This upbeat duet features the vocal charms of Carolyn Thomas upon a cinematic soundscape.
I Can Fly – A contemporary piece that is shaped by elements of classical music. The song exhibits an eclectic sound with a brilliant drum kit and synth.
Planet 8 – Andy Michaels concludes the album with guest performer Sharon Court. Planet 8 draws from elements of electro-pop while maintaining its contemporary structure. A great way to close this musical journey. Sharon Court's performance gives Planet 8 its own orbit.
Incendiary Heart by Andy Michaels is a magical journey comprised of theatrical melodies and passionate prose of song and voice. The wholeness of the album is maintained by its consistent song structure and equivocal balance between acoustic and digital musical worlds. Overall, Andy Michaels effectively captures and maintains the listener's attention through keen and practical creativity that is not overdramatized but in synch with the hearts of everyday people.