Smooth Jazz/R&B French-born singer and songwriter Aneessa has been captivating listeners with her evolving musical artistry. Her latest single, "Merci," a song about gratitude, beautifully showcases her passion and love for music, which has become the center of her life's story. Aneessa's journey can be heard through her music, all of which is produced by her husband, former Motown producer Michael B. Sutton. Whether she's performing a cover song or an original composition, Aneessa infuses each melody with life, making it her own.
Let's delve into Aneessa's captivating single, "Merci." Produced by Aneessa and Michael B. Sutton, the song features lyrics written by Anissa Boudjaoui Sutton, Michel Bampely, and Carter Kaya. Aneessa and Michael B. Sutton lend their background vocals to add depth and richness to the track. The instrumental accompaniment on "Merci" is nothing short of exceptional, featuring James Manning on bass, Timbali Caldwell on percussion, Josh Sklair on guitar, and Michael B. Sutton and Hiroshi Upshur on keyboards. Michael B. Sutton and Hiroshi Upshur also collaborated on the arrangement of the song.
The promotional photography for the CD  Cover of "Merci" was curated by Mark Maryanovich, capturing the essence of Aneessa and her music. The song, with its message of gratitude, resilience, and self-empowerment, showcases Aneessa's ability to combine melodic hooks, harmonic backing, and evocative lyrics. Aneessa's cross-cultural experiences and musical vision have influenced her unique approach to songwriting and vocal performances, which are beautifully showcased in "Merci."
The recording of "Merci" exemplifies the timeless sound that Aneessa consistently delivers. The performance and mix are excellent, creating a natural and warm ambiance that draws listeners in. The instrumentation is top-notch, with each musician adding their own flair to the track. Aneessa's vocals take center stage, and her delivery is filled with emotion and authenticity, captivating the listener from start to finish.
For both existing fans and newcomers, "Merci" serves as a testament to Aneessa's artistry and talent. The song perfectly captures her sublime voice and showcases Michael B. Sutton's skillful production. Aneessa's music transcends genres, making her a captivating artist in the world of jazz-pop crossover. With her impeccable vocals and storytelling abilities, she continues to leave a lasting impact on her audience.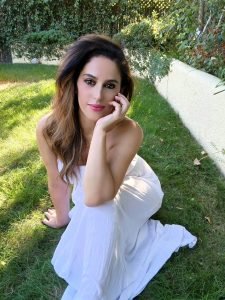 To explore Aneessa's discography and stay up to date with her latest releases, visit her official links on various platforms, including YouTube, Instagram, Facebook, and Spotify. As you immerse yourself in Aneessa's music, you'll discover why she remains a beloved
figure in the realm of jazz-pop crossover. Her unique blend of smooth jazz and R&B, coupled with her heartfelt lyrics, creates a musical experience that resonates with listeners on a deep level.
"Merci" is a shining example of Aneessa's ability to craft a captivating narrative through her music. The lyrics express gratitude and reflect on personal growth and overcoming challenges. Aneessa's vocals shine brightly, conveying both vulnerability and strength. Her voice effortlessly glides over the melody, drawing listeners into the heartfelt journey she shares.
The production on "Merci" is impeccable, thanks to the collaborative efforts of Aneessa and Michael B. Sutton. The warm and rich sound captivates the listener, creating an immersive experience. The lush instrumentation, including the resonant bass, dynamic percussion, gentle guitar, and shimmering keyboards, beautifully supports Aneessa's vocals, adding depth and texture to the song.
Aneessa's collaboration with her husband, Michael B. Sutton, has been a driving force behind her musical evolution. Sutton's experience as a former Motown producer brings a level of expertise and craftsmanship to their collaborative work. Together, they have created a musical synergy that elevates Aneessa's artistry to new heights.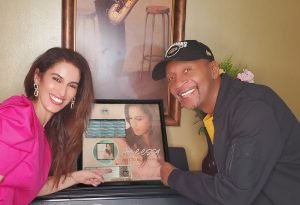 Beyond the music itself, Aneessa's presence on various social media platforms allows fans to connect with her on a more personal level. Her Facebook page, Instagram account, and Twitter feed provide glimpses into her life, creative process, and upcoming projects. Through these channels, she fosters a sense of community and engages with her loyal fan base.
Aneessa's journey as an artist is an inspiration to aspiring musicians and fans alike. Her commitment to her craft, her willingness to explore different sounds and cultures, and her ability to infuse each song with her own unique touch have made her a standout in the music industry.
As you listen to "Merci" and explore Aneessa's discography, you'll discover a talented artist whose music transcends boundaries. Her soulful vocals, heartfelt lyrics, and meticulous production make for an unforgettable musical experience. Whether you're a longtime fan or new to her music, Aneessa's artistry will leave a lasting impression, and "Merci" is just a glimpse into the captivating world she has created.
So, take a moment to immerse yourself in the smooth jazz and R&B sounds of Aneessa.
Aneessa's official website, www.aneessa.com, serves as a hub for all things related to her music. Fans can explore her biography, discography, news, and upcoming events. Additionally, her electronic press kit (EPK) can be accessed at https://linktr.ee/aneessamusic providing industry professionals with a comprehensive overview of her career and achievements. Aneessa is currently signed to The Sound Of L.A. label, which can be visited at www.thesoundofla.com/aneessa.
Follow her on social media, subscribe to her YouTube channel, and explore her discography. Let her music serenade you, uplift your spirits, and remind you of the power of gratitude and resilience. Aneessa is an artist who continues to evolve and inspire, and her musical journey is one worth following closely.
https://linktr.ee/aneessamusic
https://www.instagram.com/aneessamusic/
https://www.facebook.com/aneessamusic/
https://www.youtube.com/channel/UC6xrOhpAnP-ebXYlFNBUYWA
Refrain:

Merci, je dis

(thank you, I say)

Mille fois merci

(A thousand times, Thank you)

–

Couplet 1:

Poussée à bout

(Pushed to the limit)

Et seule contre tous

(And alone against all)

J'avance à contre Coeur

(I walk reluctantly)

J'ai prié, j'ai pleuré

(I prayed, I cried)

Et, mes réponses se sont révélées

(Then my answersrevealed themselves)

Dans les mots de cette chanson

(In the words of this song)

Et c'est pourquoi je chante

(That is why I sing)

Couplet 2:

Quand mes amis

(When my friends)

Ma famille étaient absents

(My family were away)

Je restais reconnaissante

(I remained grateful)

Merci pour la joie,  et merci pour la paix

Thank you for joy, and thank you for peace

Que je retiendrai a jamais

That I will remember forever

Et c'est pourquoi je chante

And that's why I sing

Pont:

Je suis fière du chemin parcouru

(I'm proud of how far I've come)

Je fais confiance au plan de Dieu

(I trust God's plan)

Je le remercie   pour les roses et les épines

(I thank him for the thorns and for the roses)

C'est pourquoi j'offre à tous mon cadeau de gratitude

(Therefore, I offer to all my gift of gratitude)

Refrain:

Merci, je dis

(Thank you, I say)

Mille fois merci

(A thousand times, Thank you)