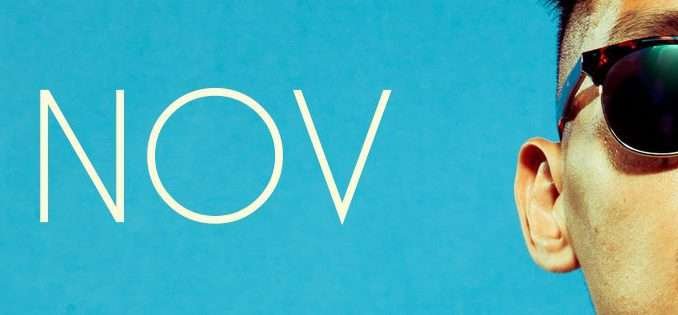 By Celeste
With an incredible voice backed by lush R&B melodies, Monsieur Nov is France's answer to artists like Musiq Soulchild and Miguel.
Monsieur Nov makes what we would call "Neo Soul" for a hungry French audience. There's a hole in the market for a French Musiq Soulchild-type artist, and Nov is determined to fill that void with his incredible voice, sensual slow jams, and Nu Soul arrangements. He is my absolute favorite French R&B singer.
His bio doesn't read at all like that of a typical Soul singer. The oft-bespectacled R&B singer is ethnic Vietnamese, and was born and raised in Val-d'Oise, northeast of Paris).Monsieur Nov He began writing songs at the age of 15, and is a completely self-taught musician. He grew up listening to Soul music, and is strongly influenced by Hip Hop. You can hear undeniable strains of mid-90's American Neo Soul in his music, like the Fender Rhodes flourishes found all over Musiq Soulchild or D'Angelo albums.
The "Nov" in his stage name stands for "New Original Vibe," and if that sounds like some Boyz II Men-type group circa 1994, that's because that's exactly what it is. Nov and some school buddies were originally going to form a singing group, but when it fell through, he held onto the acronym.
Nov is quite the prolific artist, and I'm glad. I can't get enough of his scale-defying runs, the way he soars into falsetto and how he just generally sings a door right off its hinges.
The singer-songwriter was originally discovered through an Hip Hop/R&B contest in 2005 and signed to an independent label. He got radio airplay in 2007 with the song, "Laissez nous pleurer," and began doing shows and building a fan base in Paris. To capitalize on the buzz, he released an EP followed in 2008, which it was reissued with a 4 unreleased new tracks as a collector's edition in 2009. With 11 original songs, it was really more of an album than an EP.
Sans Dessus 2 SoulSans Dessus 2 SoulBuy it
That amazing EP, Sans Dessus 2 Soul is an essential for French Neo Soul and R&B fans. It has sexy slow jams like "Toi," bouncy mid-tempo tracks like "Ma Vie de galerien," and everything in between. You'll have to look hard to find better French R&B than this. (Maybe some old Teri Moise or Afrodiziac, but this is really the best music since that era.) Here's the first song I ever heard by Monsieur Nov and that made me perhaps his most rabid American fan, "Trop Fresh."
Groove Therapy
In 2011, Nov released the album, Groove Therapy. Once again, Nov offered an up bouncy mid-tempo songs, like "Jasmine" and lots of slow jams, like the steamy single, "Tous les jours, tous les soirs."
The first single was a feel-good party song called "BCJC," the chorus of which basically describes a guy's outfit for a party. BCJC stands for "basket, casquette, jean cartonné," which means sneakers–the French call them "les baskets," casquette, which means a baseball cap, and jean cartonné — rigid or stiff jeans. (Cartonné literally means "covered with cardboard"). Check out the video:
Here's a masterful acoustic performance of "Survivrons Nous" from the same album.
3.0, Volumes 1 & 2
Nov's ambitious third album was called 3.0 Volume 1. Instead of looking to the vintage Neo Soul sound of the past, he embraces Future Soul grooves. The vocals are the same, but the futuristic instrumentals are definitely a departure. (Think Miguel.) The sound works really well in some places, like on "Tu es à moi" and "Non." I didn't really care for the official singles like "Laisse Moi" and "Phénomène," but I did like the stripped-down sound of "Fast Life":
I've never heard of anybody putting out an EP after an album, but that's what the singer did in 2012 project with 3.0 Volume 2. I think the reasoning was to gave him a new product to push while he toured, but whatever the case, he gave us 12 fresh tracks to enjoy, including the cute single "Calme toi d'abord." Check out the EP.
New Music
In spring 2013, Monsieur Nov released an EP called Pure, which sounds a lot like any- and everything by Rick Ross, Drake, etc., which would be fine everything on the radio didn't already sound like that. But I think he got fed up with not getting the airplay and attention he deserved singing Neo Soul, so he's going in a more radio-friendly direction. I understand that you gotta go where the audience is, so I guess that's what he's doing. As of last check-in (early 2014), he's been busy working on a new album. Watch this space for Nov updates.