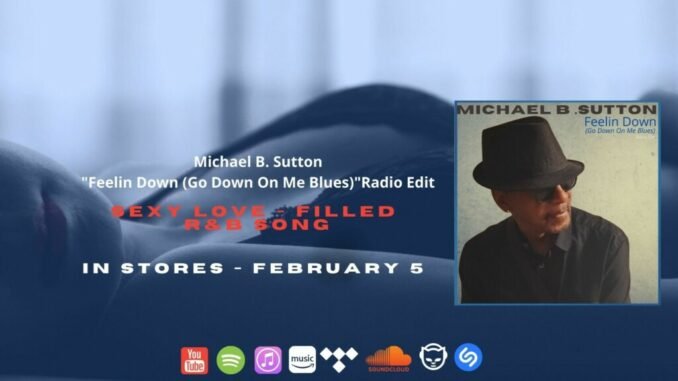 The multi-talented singer and songwriter Michael B. Sutton continues to evolve musically as evident from his latest single Feelin Down (Go Down On Me Blues). Discovered by the legendary Stevie Wonder, Sutton has a rich musical legacy and career which includes his work with Motown Records and headline artists like Jay-Z, Kanye West, Michael Jackson, Smokey Robinson, Diana Ross, and many more.  Whenever a track has  Michael B. Sutton's name on it you can be certain that the quality of the production is always going to resonate at maximum level.
Feelin Down (Go Down On Me Blues) is an incredible song accentuated with trimmings of soul. The track has an exotic vibe that is greatly enhanced by its keyboard measures and powerful bassline. Bluesy riffs of rhythm guitar set the tone for a theme of someone who feels neglected in love and on the downside of a relationship. The drums have a sophisticated sound that is particularly enlivened by a crisp snare drum – all of which works as a superb podium for Sutton's vocal performance.
Michael B. Sutton gives a unique edge to Feelin Down with an emblazoned lead vocal that shapes the direction of the track and provides  a great amount of depth to the production. In a manner reminiscent of Marvin Gaye, Sutton's stylish prose are infused with fervent synergy and the breath of life. Backing vocals, overdubs, and additional harmonization give Feelin Down an exalted vibe that all can enjoy.
As a musical veteran Michael B. Sutton demonstrates his timelessness as an artist in this superb offering Feelin Down (Go Down On Me Blues).
Available Now> https://backl.ink/143135656
on Spotify – Amazon – Apple Music – Deezer – Tidal
Connect with  Michael B. Sutton on Social Media: https://www.facebook.com/MichaelBSutton
https://www.instagram.com/SuttyMichael
To know more about Michael B. Sutton
Please visit www.Thesoundofla.com/MichaelBSutton