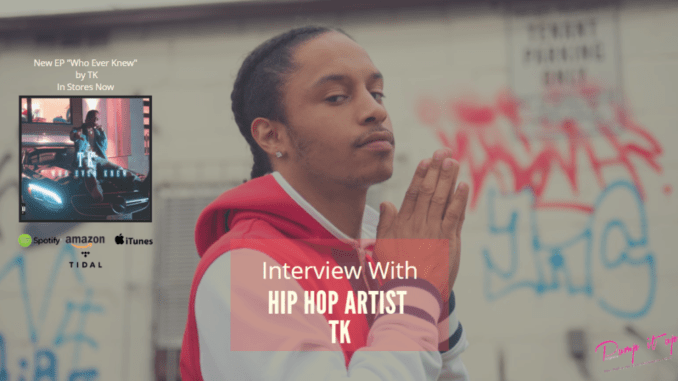 1. Great to have you on Pump it up Magazine. Please, introduce yourself?
Glad  to  be  apart  of  Pump it  Up Magazine  and  appreciate  the  support. My  name  is  Tk  and I  was  born and  raised  in Toronto.  I have  been recording  music  seriously  for  the  past  couple years.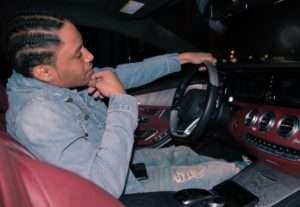 2.  How did you get started in the music business?
Music  has  always  been apart  of  my  life, even when no one  else  really  was.  Through  the comfort  of  music  I grew  to love  the  art  form  and  lyrical  word  play  of  certain artist.  From a young age  I started  writing  poetry  and  was  really  good  at  it.  From  there  I started  writing music  and  challenged  myself  to get  better  in any  way  I could.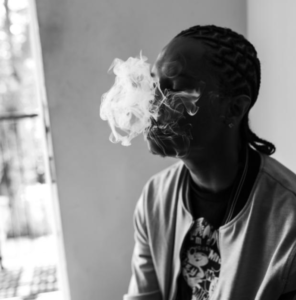 3.  Tell us about your new single? And what's the story behind it 
My  new single  "Top Down"  is  last  release  apart  of  my  ep entitled  "  Who Ever  Knew". The underling  message  of  this  single  is  me  disregarding  what  anyone  has  to  say  about  myself  or my craft.
Letting  listeners  know  that  hate  does  not  my  mission as  an artist, as  well  as  calling out  local  artist  for  not  staying  true  to  their  craft.
The  track  has  a  smooth  beat  which  is complemented  with  a  smooth  flow.
4. What makes your productions unique? And how would you describe it? (genres/sub-genres)?
I  strive  to  stand  out  and  be  different  when it  comes  to the  average  sound  of  my  city. I believe  staying  true  to  your  sound  and  style  will  set  you  apart  from  the  mass.
I would  say  my genre  is  mixed  with  hip-hop that  is  done  over  trap-ish  types  beats. 
I like  to  challenge  myself and  stay  versatile  with  my  sound  and  style.  I get  bored  really  easy  and  switch  up flows, topics, and  other  things  constantly.  I  still  keep  my  lyricism  and  word  play  as  that  is  one  aspect  that  is really  important  to  me  in my  music.
5.  Who are your biggest musical influences? And any particular artist/band you would like to collaborate with in the future?
I  am very  influenced  by  the  east  coast's  lyricism  and  delivery  but  also  love  the  west  coast's vibes  and  sound.My  biggest  musical  influence  from  the  very  jump was  Tupac.  Fascinated  with his  message,  versatility,  and  plane  drive  for  greatness  has  shaped  the  artist  I am  today.  Nas is  another  major  influence  for  me  as  I love  lyricism  and  word  play.  He  ability  to  spit  and  the message  he  conveys  is  one  like  no  other.
6.  Which is the best moment in your musical career that you're most proud of? (awards, projects or public performances etc)
The  thing  I'm  most  proud  of  is  my  first  project  entitled  "Who Ever  Knew". I told  myself  no matter  what  anyone  said  or  thought  about  my  music  I was  going to get  this  project  done.  I have completed  the  project  and  have  shot  a  couple  of  videos  for  some  songs.  Through  my  push  for this  I  have  gained  a  lot  of  support  and  recognition with  this  project.
7.  What advice would you give to aspiring musicians?
Best  advice  I could  give  to  an artist  is  to  be  yourself  and don't follow  trends.  Setting  yourself apart  from  everybody  gives  you  your  uniqueness.  Always  try  to  get  better  with  your  craft whether  it  be  in a  big  or  small  way.  Challenge  yourself, set  goals,   be  persistent,  and  believe  in yourself.  It  can  be  hard  to  try  to  find  your  sound  or  style  with  the  set  sounds  that  are  popular at  the  moment. Last  thing, take  your  time  but  no too much  time. I'm  very  critical  of  my  craft and  sometimes  have  to remind  myself  that  overthinking  can lead  to the  downfall  of  a  certain song  or  project.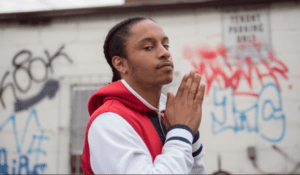 8.  you had one message to give to your fans, what would it be?
To  my  fans, I thank  you  all  so much  for  the  support  you  have  given me  over  these  past  years. Getting  messages  from  fans  who can barley  speak  English  trying    to  tell  me  they  love  my  music is  mind blowing.  Getting  love  locally  and  from  around  the  world  makes  me  know  I'm  on the  right path.
You,  my  fans, give  me  that  much  more  confidence  in myself  and  the  drive  to create  more content.
9.  What's next for you? Any upcoming projects or tours?
The  next  big  thing/goal  for  me  is  to  start  preforming  and  master  the  art  of  entertaining a crowd.  Through  this  I would  like  to  do    upcoming  shows  and  network  with  other  talented individuals.  2020  I  plan  keeping  the  ball  moving  with  some  more  singles.  Due  to  Being  versatile on topics  and  flow,  I plan releasing  some  uplifting  songs  for  women of  color  this  year.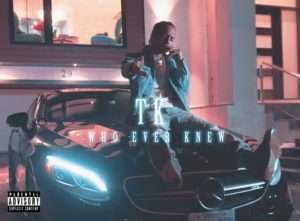 To know more about TK, please visit: