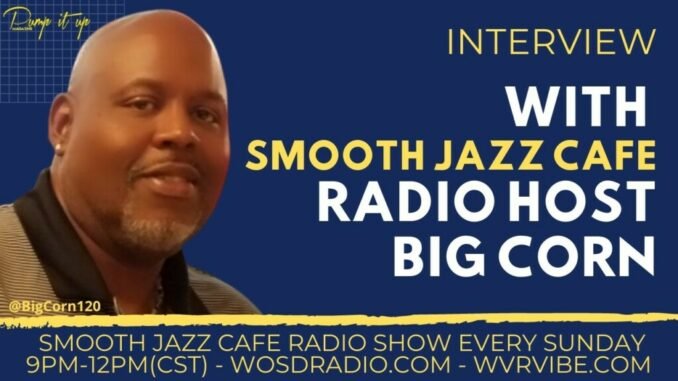 1. How did you originally get into radio?  Why radio?
   I entered a contest at a local radio station here in Chicago and I won the contest.
   The prize was that I got a chance to co-host a show on that station with my favorite radio personality.
   After co-hosting the show of my choice the program director liked me so much that he hired me as a fill in personality. And that's how it started.
  Why Radio? I've always been told I have a nice voice and I love music, I've been a mobile D.J. since high school doing weddings and parties so when the opportunity presented itself I jumped in.
Big Corn

2. Can you tell us about your radio show?
Yes, my show is called The Smooth Jazz Cafe. It airs on Sunday nights from 9pm-midnight CST on the internet on two internet radio stations. www.wosdradio.com and www.wvrvibe.com.
   The format is contemporary jazz but I also play some classic jazz standards from time to time, I call it digging in the crates which is an old D.J. term that refers to back in the day when we D.J.'s carried our records in milk crates.
  I also may throw in a track from time to time from the soul and R&B genres but they have to be smooth.
3. Who have been your influences and inspirations in the business?
Well I would have to say the two people that I worked under when I first started. Troi Tyler and Dr. Al Greer. I learned a lot from them both and I'm still learning from Al because he's the CEO of the station I work on now WOSD Radio.
4. How do you feel the Internet has impacted the music business?
I think it has had a great impact on the music business because it allows radio stations to reach much broader audiences. I have listeners on my show in other countries like Canada and even Russia.
  That means the music is reaching a broader audience. Not to mention streaming which is very popular these days.
5. What is considered a "hit record" in today's music world?
Well I guess that depends on who you ask, but for me it's a record that is well liked by audiences and heavily requested at radio stations which would translate hopefully to record sales for that artist.
6. Do you have any tips for independent music artists?
Well I'm not an artist or a music co. executive but as a radio personality my guess would be to get as much exposure to your music as you can. The more people that hear it, the better.
7. Are there any resources or even advice that have really helped you on your journey?
Well I would say the internet. There are many sites that I use to research info for my show as well as hear new music and interact with listeners and artist. Social media is very helpful as well.
Follow Big Corn on social media