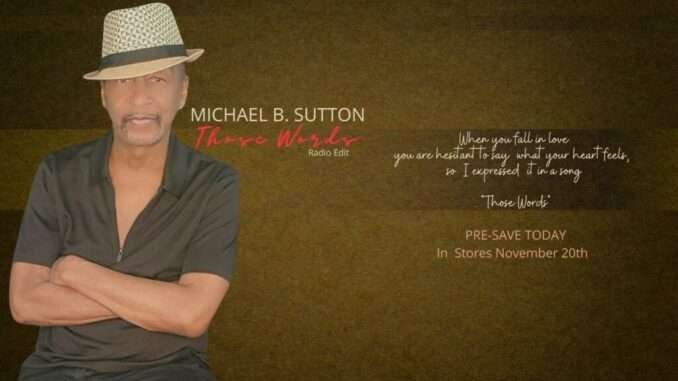 Michael B. Sutton has had a storied and impactful journey in the music industry, overcoming personal challenges while making significant contributions to music as a songwriter, producer, and artist. His career spans from his early days in Gospel music to working with Motown Records and eventually establishing his own label, Little Dizzy Records, under The Sound Of L.A.
Let's delve into his experiences, career highlights, and recent endeavors:
---
Interview with Michael B. Sutton
Q: Your journey through the music industry has been quite remarkable, from your early days in Gospel to working with Motown and eventually establishing your own label. What have been some of the most defining moments of your career?
A: Indeed, it has been a journey filled with many defining moments. One such moment was when I had the opportunity to audition for Stevie Wonder's backing band Wonderlove. That experience, where Stevie himself got captivated by our performance, was instrumental in getting us noticed and eventually signed by Motown Records. Working at Motown alongside talented individuals like Hal Davis, Pam Sawyer, and Frank Wilson was another significant period. It was a time of immense learning and growth as a songwriter and producer.
Q: Your recent projects and collaborations reflect a diverse range of musical styles, from urban contemporary to smooth jazz. How do you navigate between these genres, and what inspires your creative direction?
A: I've always been drawn to various genres, finding inspiration from different musical landscapes. Collaborating with artists likemy wife  Aneessa and exploring smooth jazz and urban adult contemporary music has been a fulfilling journey. What motivates me is the storytelling aspect of music, and each genre offers a unique platform to convey emotions and experiences.
Q: Your recent single, "Sexual," has garnered attention for its soulful, grown folks' groove. Can you tell us about the inspiration behind the song and your creative process in its production?
A: "Sexual" was a song that had been in the works for some time. The inspiration stemmed from personal experiences and a desire to create a sultry, yet tasteful, piece that resonates with a more mature audience. Collaborating with talented musicians and my wife, Anissa, added depth to the song's production, bringing to life that vintage, funky groove reminiscent of great artists like James Brown and Johnnie Taylor.
Q: You've also been involved in film and TV projects, contributing music for various productions. How does composing for visual media differ from creating standalone music, and what challenges or advantages does it present?
A: Composing for film and TV involves understanding the narrative and complementing visual storytelling. It's about enhancing emotions and scenes through music. The challenge lies in syncing the music precisely with the visuals, but it's a rewarding process when the music elevates the storytelling. The advantage is the opportunity to experiment with different sounds and atmospheres.
Q: With your experience in the industry, what advice would you give to aspiring musicians, songwriters, and producers looking to establish themselves in the music business?
A: Persistence is key. It's crucial to hone your craft continually, stay true to your unique voice, and never shy away from learning. Networking and building relationships are vital; you never know where opportunities might arise. Lastly, embrace the changes in the industry and adapt to new technologies and trends while staying authentic to your artistry.
Q: What can fans and the audience expect from your upcoming projects or releases?
A: I'm constantly working on new music that explores different themes and genres. There's a blend of contemporary sounds with a touch of nostalgia in my upcoming projects. Also, collaborations with talented artists continue to be a highlight, offering fresh perspectives to my musical journey.