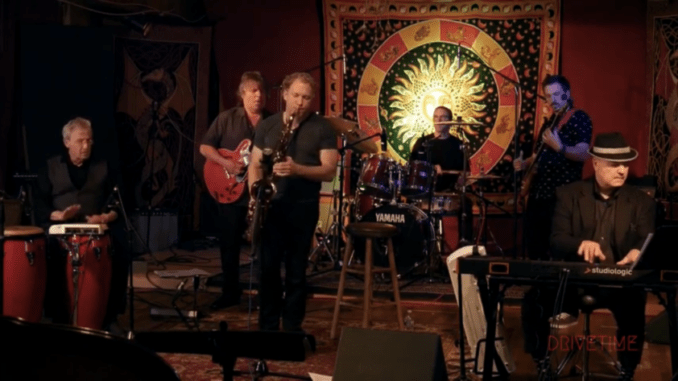 Soaring high for over ten years is HMMA nominated and international recording artist, DRIVETIME whose original Jazz sound has become a household item in so many homes.
Comprising of multi-talented instrumentalists & artists, including; Bernie Capodici (Congas/Percussion/Producer), Jimmy Dell'Orefice (Keys), Gene Terramani (Guitar), Nick Terramani (Bass), JJ Zeller (Drums), and Jeff Bichaylo (Synth/Fender Rhodes), Drivetime has announced their forthcoming single "Un Domani Migliore (A Better Tomorrow)" anticipated by the 1st of April.
Alongside Philly's legendary saxophonist Andrew Neu, Drivetime has continued to push their eccentric sound of urban organic Jazz through their latest release that is about to take the Jazz world with force.
"Un Domani Migliore", written and produced by band leader, Bernie Capodici, is a follow-up to the band's earlier collaboration "Fifteen Days" released back in 2020 together with Andrew Neu on the sax. A clarion call with a smooth blend of all Jazz standards, the upcoming single has a sound more in touch with the unique style of the Philly band and consists of a wistful vibe that is hard to resist. Drivetime has for a while been known for incorporating new styles like; Nu Jazz, Fusion, Funk, & Latin in many of their original compositions. On this number, they have deftly fused the charming sounds of the saxophone with their peerless ensemble to deliver a mollified track that will call you back to the times when Jazz was unrivaled.
Drivetime's music has been in rotation on the Internet and terrestrial radio since their debut single Getin' Witit 2009 featuring Bob Baldwin. Their new song is another addition to their unmatched discography that has continued to rise in ranks on Jazz music charts.
About Drivetime
With a vast discography, including preceding albums like; California Dreamin', Mysterious Life, and Ignition, Drivetime is currently elevating to the pinnacle of their careers as they move forward into discovering more about themselves and their music.
The band coming out of Philadelphia has risen in ranks with the success of their stunning original Jazz albums like; California Dreamin' which rose to #23 on the Smoothjazz.com charts, #7 on BDS radio chart, & had over 32,787 impressions on Internet Broadcast charts.
The band has done a couple of collaborations with some of Jazz music's giants like Andrew Neu (Saxophone), Bob Baldwin (Pianist/music composer), John Sorrenti, Phyllis Chapel, Justin Guarini, and many others. Their music has increasingly become a source for so many Jazz lovers around the US and all over the world. Thanks to their unique style, their agility is steeped in the honored tradition with some of their songs acknowledged on the Billboard Jazz Charts.
Their soon-to-be-released single "Un Domani Migliore (A Better Tomorrow)" is another one of their melodically soulful and rhythmic tracks that will make you fall in love with their artistry.
For more about this upcoming single, check out their website (www.DrivetimeUOJ.com) and follow the band on their social and media streaming pages.
Facebook: https://www.facebook.com/OfficialDrivetimeUOJ/
Twitter: https://twitter.com/DrivetimeUOJ
SoundCloud: https://soundcloud.com/drivetimeuoj
Band Camp: https://drivetime.bandcamp.com
Apple Music: https://music.apple.com/de/artist/drivetime/267818230?l=en
Spotify: https://open.spotify.com/artist/7gyNiwacH1UgLahe8qACU6?si=R4hxG97JRBC6EMFR5xnmWw
Follow Drivetime on youtube