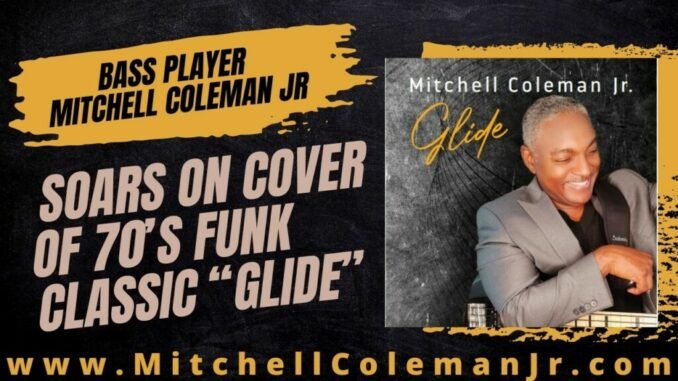 (January 21, 2022/ Los Angeles)
In a recording career that began in 2015 with his debut CD, Soul Searching, bassist Mitchell Coleman Jr. has been staking his claim as the new face of bass in your face FUNK.
He is seriously throwing down the gauntlet with his latest single, "Glide," a feel-good cover of the 1979 Funk classic originated by the band Pleasure. Where Portland-based Pleasure's original version (penned by the band's bassist Nathaniel Phillips w/ vocalist/percussionist Bruce Smith) was a tightly wound tapestry of Funk-Jazz,  Mitchell Coleman Jr.'s take invites err'body to the skate party without skimping on 1 oz. of The Funk.
"The song just called out to me one morning,"  Mitchell Coleman Jr shares of his inspiration to boldly rerecord the Funk nugget. "'Glide' is one of those bucket list songs for bass players. Once you can play it, you know you're officially in the game. It took me  a good minute to get this one under my thumb…`cuz Nate slid some serious stuff up in there! I would love to talk to him about that one day… I didn't want to mess with it too much. Just add a lil' of that Sylk Sonic skating flava. And lyrically, 'Glide' fits this time to a 'T.' There's just so many things we are all trying to get over and 'glide' on by…"
Mitchell Coleman Jr co-produced and worked closely with producer Michael B. Sutton and arranger Hiroshi Upshur, to give it a looser more universal appeal for listeners today as well as Funk connoisseurs who surely remember it from back in the day. Fernando Harkless also contributed via the spicy horn licks that he came up with and played in layers over the track. The joyous result is a mighty good time for the head, heart and feets of all!
"Glide" is the lead-off single of Mitchell Coleman Jr.'s forthcoming fourth album which he is dedicating to the memory of his mother, Mary Ruth Coleman, who passed away two years ago. The working title for this project: Dedication.
In the meantime, "Glide" is dedicated to everyone around the world that likes to PARTY HEARTY in the face of today's relentless adversities.
"It's a tight groove,"  Mitchell Coleman Jr concludes, "plus it highlights me as a bass player."
For more information on Mitchell Coleman Jr, contact soundofla12@gmail.com
Follow Mitchell Coleman Jr. on social media
www.thesoundofla.com
Review Written by A.Scott Galloway