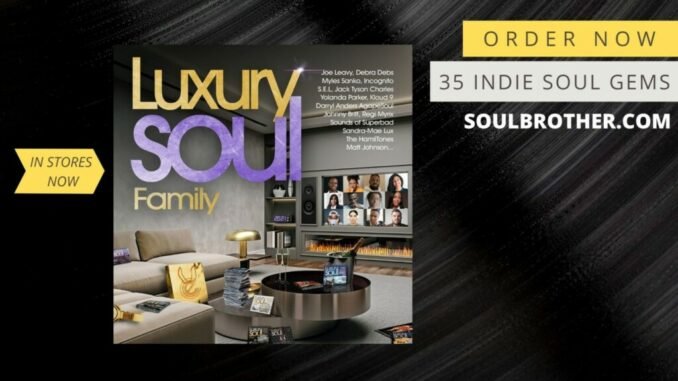 Expansion Records continues to be an oasis for jazz, r&b, and soul music artists. Luxury Soul Family is the latest compilation released by the recording company and features some of the best artists and sonic forms of expression in the world. Musical visionary, entrepreneur,  and co-owner of Expansion Records Ralph Tee has insured the album's continuity and overall professionalism by acting as a guiding force.
Luxury Soul Family is a rich collection of music that is comprised of 32 songs from various artists.
The project opens with "Fall Into My Love" by the vocal powerhouse Francisca Thomas and additional work by Icognito. The soulful nature of Francisca's voice with this crisp r&b production is very transcendent and effective in setting up the mood and focus for what is to follow, namely, quality music.
The album's well-blended sense of diversity comes to life on "Falling – Radio Edit" by S.E.L., and Bryan Chambers. This particular track begins in appropriate EDM style before transforming into a festive and disco-influenced soul anthem. Its placement within the catalog gives the track a stunning luster.
The musically gifted and creative singer and songwriter Aneessa adds substantial depth to the Luxury Soul Family compilation with "Just To Be With You". The track's message about the discrimination that people in interracial relationships must endure coupled with its fluent production and enlivened musical terrain make Aneessa's offering memorable and a distinct jewel containing magnificent dimensional quality.
Luxury Soul Family is a must-have for lovers of jazz. r&b, and soul and all those that support the traditional values established by these genres in modern form. Expansion Records has produced one of the finest collections of music to date. Luxury Soul Family is a creative work that endears a fabulous taste of chorale with a live band expertise – an experience that truly reaps a beatific reward. Thank you!