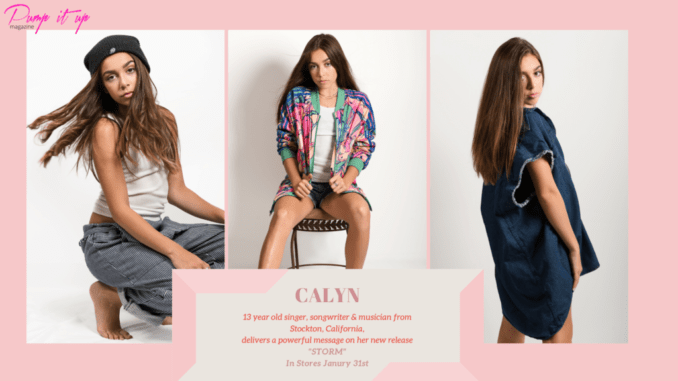 Calyn is a 13 year old singer, songwriter & musician from Stockton, California.  She's worked in the studio, making music with her older sister, fellow musician and co-writer, DYLI, since she was 8 years old and she's never NOT singing!  CALYN put out her first single, Make Me Cry, when she was 11.  She's had a few more releases since and her craft continues to evolve with each one.  Her latest single, Storm, captures her current artistry and her delivery is heart felt. 
Music Review: CALYN – "Storm"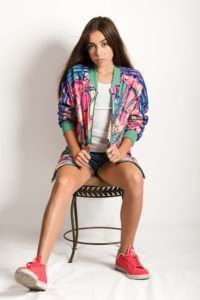 "Storm" is somewhat of a nightmarish single, and the result is transfixing, gorgeous, and terrifying at once. Even without a music video, CALYN's revelatory work stands on its own. Unlike Billie Eilish, not many artists can craft ominous, atmospheric works as CALYN does here, but it's no surprise. Her stab at it seems so masterful. She pairs almost unnervingly intimate whispers, her lips practically brushing the mic, with heavily abstracted string tones as the song guards a vivid interior life beneath its prickly exterior.
Her perception of the relationship between inner and outer friendship realms begin to shift. The music carries within it the idea of form coming into being; it's far away from an erratic kind of order as it glides with a free form drift. Some might say the song begins in relative mundanity, but for CALYN, she doesn't mind plunging deep into atmospheric waters and never letting up for the ensuing four-plus minutes. It becomes a brilliant, slow-burning psychological experience about toxic friendships such that the methodical arrangements and uncomfortably close whispers on the experimental song brings you further inside CALYN's surreal world.
CALYN turns the screws slowly offering brief moments of relief. Though the song uses sumptuous string sounds, its essence remains pensive and sometimes unsettling. The overall tone becomes hushed, the interwoven elements guarding each other's identities. The only thing left to make it a soundtrack for a blockbuster horror-film would be a throbbing sound mix of night insects, creaking doors, gushing wind and crackling fire under the glow of a full moon.
CALYN 's voice carries the full effect of turning strange to glassy and cold. In place of the drums she uses her voice and its contrasting rhythm to form a lattice of complementary pulses.
For the singer-songwriter hailing from Stockton, California, the grain of her voice delves into an eerie presence. One wouldn't expect that kind of deep raw emotion from a young artist, and though the meaning of her words is not always apparent, the tone of her voice lends a dead-of-night intensity that renders the song's pockets of silence all the more potent. Much like eavesdropping on her very thoughts, CALYN puts her own spin on what we would normally think of as intimate atmospheric music.
To know more about CALYN, please visit: