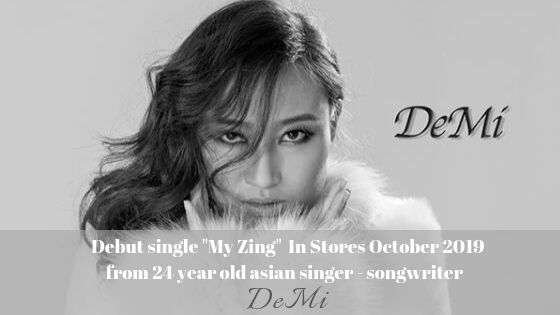 New voice from China: DeMi
More and more Chinese music has attracted worldwide attention. Just like the Chinese music market, Chinese musicians have also received unprecedented attention.
Demi, a singer from Xi'an, China, will soon release her latest songs My Zing and Mystery Boy around the world.
She's a 24-year-old singer and songwriter. Influenced by her mother who liked European and American pop music, she also began to take a liking to pop music as well. She began writing songs and performing on the streets when she was a little girl.
Later, she went to college and began to show her genuine talent in music. She can not only write songs, but also has a very young infectious voice. Her voice is very recognizable and charming. In college, she was the center of attention of course being involved in all kinds of music competitions, leaving her shadow and presence after each performance, and almost ranked first each time. For this reason, her singing was featured on the school's official website.
In 2018, she participated in the music project "Force Project" of Tencent Music Organization of China. With her song "Mysterious Boys", she won the favorite of thousands of fans, she reached the top 20, and won 340,000 votes. Her performance attracted the attention of recording label Rockbird, and she immediately signed a contract.
In order to make great music for Demi, the recording company invited two famous music producers to take charge of her music production. One of them, Ryan Bowser from St. Louis, Missouri who was the producer of famous singer Nelly, who produced the song "Dilemma" featuring Kelly Rowland of Destiny Child. Dilemma won the Billboard hot 100 singles list for ten consecutive weeks and won the Grammy Award of the year. Another producer, Phillip Jarrell, from New York, wrote the song "Torn Between Two Lovers" in his early years and was also the US Billboard hot 100 champion.
The two producers commented on Demi for her amazing talent and unparalleled voice, and for her brilliant talent in song and lyrics.
In October, her debut single "My Zing" will be released in the U.S.
                                                       By Wang Jiang