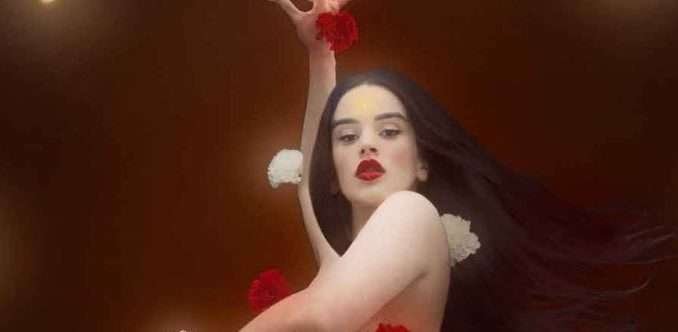 "I believe a lot in this project," YouTube's Artist on The Rise Rosalía told her fans in a video uploaded in the months leading up to the release of her sophomore LP "El Mal Querer." "I love the songs, and over time they have become more radical: different ways to understand flamenco, or the flamenco imaginary, or what is inspired by flamenco. At the same time, they are very accessible. They are designed so that everyone can enjoy"
Released in November, "El Mal Querer" reimagines the centuries-old flamenco genre through the lens of more modern sounds from the world of R&B and electronic music. It's a bold vision from an even bolder artist — and one that is resonating with critics and fans alike. The album was named one of the top releases of 2018 by the likes of the New York Times, Pitchfork and NPR, while clips for album tracks like "Malamente," "Pienso En Tu Mirá" and "Di Mi Nombre" have racked up millions of views across YouTube. All told, the multi-talented singer earned over 135 million views and over 400,000 new subscribers in 2018, making her one of the year's undeniable breakouts. And in the process, the 25-year-old has arguably reshaped flamenco in her home country while reintroducing it—or perhaps even introducing it for the first time—to music fans around the world.
Born in Sant Esteve Sesrovires, a suburb of Barcelona, Rosalía grew up in a house where the stereo mostly played pop and rock. Her parents listened to the Beatles, Bob Dylan, and Bruce Springsteen, which left her to discover flamenco in public, on the streets. Her first favorite was Camarón de la Isla; listening to him changed her life.
"He had a voice like an animal," Rosalía recently told Pitchfork. "It was like casting a spell. For me, it was as though it wasn't possible to sing more honestly, or viscerally, than him."
Inspired by the genre, Rosalía enrolled in Barcelona's Catalonia College of Music and studied the traditional style of cante flamenco. She released her first album, "Los Ángeles," in 2017, the year she graduated. The record was minimalist in sound—often just voice and guitar—but not in emotion. Every track, from "Catalina" to a cover of Bonnie "Prince" Billy's "I See a Darkness," dealt in some way with death, and came alive through Rosalía's impassioned singing.
If "Los Ángeles" took a classical approach to flamenco, showing how Rosalía had mastered the genre's foundational elements, her second album, "El Mal Querer," uses that foundation to build something that no one could have predicted. Produced by Pablo Díaz-Reixa, also known as El Guincho, the LP bears the influence of both R&B and ambient electronic music, each song experimenting with different sounds and styles.
"I think I'm lucky 'cause I'm making my dream come true," she explains in a shot form documentary series uploaded to her channel. "A dream from many years ago. Ultimately this project is what I've always wanted to do. I've been thinking for a long time to make an album like this. It's a lot different than 'Los Angeles,' but its essence is the same. You can sense the flamenco inspiration"
"The flamenco inspiration is still there," she adds, "but, at the same time, it is something else."
The album is divided into chapters. These chapters live not just on the record but on YouTube, where they're expanded into music videos that Rosalía described to Dazed Digital as "visual poems." Opening chapter "Malamente" contrasts the new with old, with a revving motorbike replacing the charging bull in front of a matador's red muleta. "Pienso en Tu Mirá," Chapter Three, shows images of a mysterious house party and truckers like those who make their living near her Sant Esteve Sesrovires home. "Di Mi Nombre," Chapter Eight, shows Rosalía dancing through a Victorian home lit by pink neon light.
"Videos reaffirm and reinforce my music. I was able to grow as an artist when I began to upload my videos and people started to discover me through YouTube," the singer recently told Forbes. "My songs 'Malamente' and 'Pienso en tu mirada' exploded on YouTube and that changed everything for me."
And these same videos have turned heads around the world. Rosalia won a pair of Latin Grammys at this year's awards, where she was nominated five times — only J. Balvin earned more nods. Balvin, meanwhile, recruited her to join him on his hit "Brillo." Producers like Pharrell Williams and Arca have also asked the singer to collab. Meanwhile, the singer herself turned heads when, as a YouTube Artist on the Rise, she was featured on a billboard in New York City's Times Square.
"It makes me happy, because I believe that my generation of artists and creatives in Barcelona, in Spain, we are doing something that can connect with people," she recently explained to Forbes of her Artist on the Rise selection and continued success on YouTube. "There is nothing more magical than a platform to make it visible in this way—in such a big way."