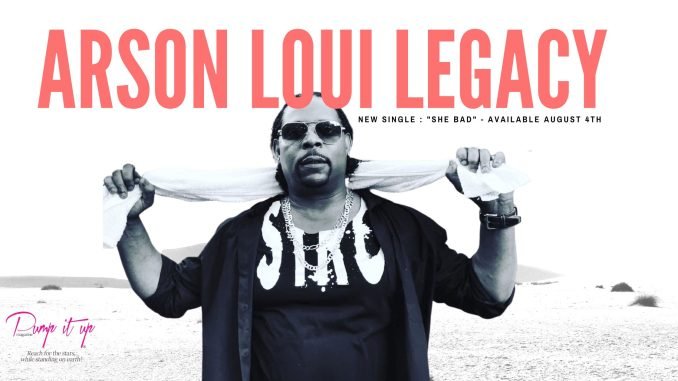 Arson Loui Legacy, a passionate and driven Hip-Hop artist, was born and raised in Downtown Newport News, VA. Coming from a background of financial struggles with five siblings, he was raised by his loving grandmother in a challenging environment that instilled in him a deep sense of determination and resilience.
"My late mother's memory is my driving force. I want to make her proud and leave a lasting Hip-Hop legacy in her honor through my music," shared Arson Loui Legacy, reflecting on the powerful motivation behind his artistic journey.
Music became his refuge and therapy during his formative years, providing strength in the toughest of times. As he matured, a burning desire to honor his late mother's memory ignited within him, pushing him to pursue his artistic aspirations with unyielding dedication.
"Hip-Hop gave me strength in the toughest of times, and I'm forever grateful for its presence in my life," he expressed, recognizing the profound impact of music on his life.
Drawing inspiration from hardworking artists who achieved success, irrespective of gender, Arson Loui Legacy realized that unwavering dedication and perseverance were essential to making his mark in the music industry. Fueled by the success stories of fellow artists who had worked their way to the top, he embraced a relentless work ethic to fulfill his passion for Hip-Hop music.
"The grind never stops. Success comes to those who work relentlessly and pour their heart into their craft," he emphasized, highlighting the importance of continuous effort and dedication.
His musical journey commenced with a fascination for sports and a growing admiration for the power of music. As he delved deeper into his musical interests, he discovered an overwhelming urge to share his voice and emotions through his art. Hip-Hop music became the medium through which he conveyed his experiences, struggles, and growth in a raw and authentic manner.
Embracing a vision of honesty and trust in his art, Arson Loui Legacy sought to create a strong bond of connection with his audience, making each listener feel deeply engaged with his music.
"Honesty is the core of my music. I strive to be genuine in every word and note, creating a deep connection with my audience," he expressed, underscoring the importance of authenticity in his creative process.
Every Hip-Hop performance, for Arson Loui Legacy, is an opportunity to deliver substance and create a unique experience that transcends the boundaries of a typical rap show, transforming into a soul-stirring journey for his dedicated supporters.
"Every performance is a chance to deliver an experience, not just a show. I want my fans to feel every emotion and be part of something unforgettable," he said passionately, emphasizing the significance of creating impactful live performances.
In his songwriting process, Arson Loui Legacy immerses himself in the essence of the track, allowing words to flow spontaneously, reflecting the depth of his emotions and thoughts. His lyrics serve as an authentic expression of his innermost self, fostering a profound connection with his listeners.
"Songwriting is a divine process. The words come naturally, and I pour my soul into every verse, making sure my music speaks volumes," he shared, highlighting the emotive and soulful nature of his creative approach.
Throughout his music career, Arson Loui Legacy encountered personal challenges, including the loss of dear family members. With an unwavering commitment to his faith and inner strength, he confronted each obstacle, emerging stronger and more determined to evolve both as an artist and as an individual.
"Challenges are inevitable, but prayer and inner strength have been my anchors. They've guided me through the darkest moments and pushed me to grow," he revealed, emphasizing the significance of his spiritual journey.
As an artist, Arson Loui Legacy continues to evolve, not only in his music but also in his mental and spiritual growth, as he remains committed to continuous self-improvement.
"I'm humbled by the impact my music has on people's lives. Knowing that my art resonates with diverse audiences keeps me inspired to create," he humbly stated, recognizing the far-reaching influence of his music.
The impact of his Hip-Hop music has been profound, resonating with a diverse global audience. Arson Loui Legacy finds great satisfaction in knowing that his art touches the hearts of people from all walks of life, making a positive difference in their lives.
"My family is my backbone. Their unwavering support and love fuel my determination to keep pushing forward and evolving as an artist," he acknowledged gratefully, recognizing the profound influence of his family on his artistic journey.
Looking to the future, Arson Loui Legacy remains steadfast in his commitment to creating music with passion and purpose.
"Cultivating my craft is not just a pursuit; it's my life's mission. I take immense pride in my music and strive to leave a lasting mark on the world," he declared, underscoring the significance of his artistic vision.
Arson Loui Legacy aspires to continue connecting with his audience on a deep and meaningful level, staying true to himself and his art. Beyond music, his ultimate passion lies in his family, who have been his unwavering support and inspiration throughout his journey.
With unwavering dedication and immense pride in his craft, Arson Loui Legacy pours his heart and soul into each song he creates. His Hip-Hop music serves as an embodiment of his journey, struggles, and growth, a testament to his unwavering commitment to his artistic vision.
"As an artist, I give my all in everything I do. Taking pride in cultivating my craft, I strive to create music that resonates with people, leaving a lasting impact," he expressed with unrelenting dedication.
As he forges ahead on his musical path, Arson Loui Legacy remains committed to making a lasting impact with his music, leaving an indelible legacy for generations to come.
New single : "She Bad" – Available August 4th – Pre Save NOW