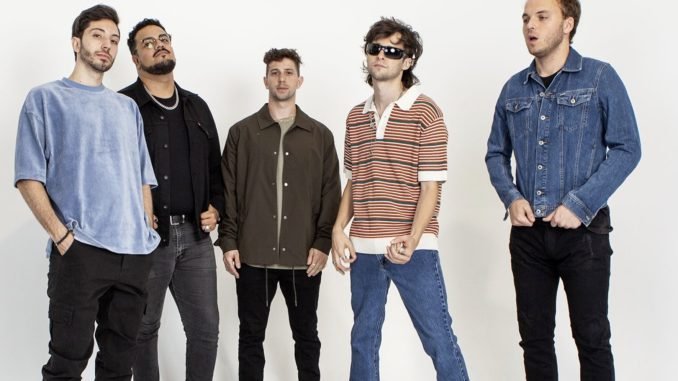 The Hails, a five-piece band hailing from Miami, continue to captivate listeners with their unique blend of indie, soul, and alternative R&B. Their latest single, "Heaven," featuring Kwin, showcases the band's exceptional musicality and tight-knit chemistry. The track takes the listener on a celestial journey, with Robbie Kingsley's delicate vocals intertwining flawlessly with Franco Solari's fervent guitar work.
"Heaven" is a waltz-like composition that beautifully showcases the band's ability to create fluid grooves. The keyboard line hums along, creating a hypnotic backdrop for the heartfelt lyrics and infectious hooks. The Hails take the blueprint and run with it, delivering each line with utmost conviction and sincerity. The song feels like a new direction for the group while also being an obvious next step for the Miami boys.
The introspective nature of "Heaven" is evident in the poignant question posed by the lyrics, "If I was in heaven… would you fall in love again?" The track delves into themes of lasting influence and the eternal reunion, while the steady drumbeat symbolizes life's constant progression. A climactic flurry of strings offers a glimmer of hope, leaving the listener with a sense of optimism.
In addition to the single release, The Hails have exciting news for their fans. They have announced their first-ever headline tour, set to take place in September. The tour will cover key East Coast and Midwest markets, including Washington, D.C., New York, Chicago, and their home state of Florida. The band will be supported by Cannibal Kids and Shallow Alcove, promising an unforgettable live experience.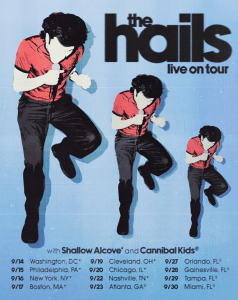 The Hails have been steadily building momentum, unveiling tracks from their highly anticipated debut album. Songs like "Exonerate," "Breathless," and "Fiona" have garnered praise from critics and gained recognition on popular playlists. Their vintage-inspired official video for "Breathless" showcases their artistic vision and commitment to their craft.
With each release, The Hails prove that they are a band on the rise. Their refined sound, influenced by their Miami roots, has found its place in the indie music scene. As they gear up for their upcoming debut album, the band is more confident and assured than ever before. The Hails' fusion of indie, soul, and alternative R&B is enchanting, and all signs point to their forthcoming album being a pivotal moment in their career.
In conclusion, "Heaven" is another testament to The Hails' talent and musical prowess. With their compelling sound and thoughtful lyrics, they continue to establish themselves as a band worth keeping an eye on. Their headline tour and forthcoming album are sure to solidify their place in the music industry, and fans can look forward to experiencing their captivating performances and captivating music in the months to come.
Written by Anissa Sutton
For more information on The Hails, please visit:
Instagram / Twitter / Facebook / YouTube / Spotify / Apple Music / TikTok / Website
UPCOMING HEADLINE TOUR DATES
September 14 – Washington, DC – DC9*
September 15 – Philadelphia, PA – Kung Fu Necktie*
September 16 – New York, NY – Mercury Lounge*
September 17 – Boston, MA – Middle East (Upstairs)*
September 19 – Cleveland, OH – Foundry*
September 20 – Chicago, IL – Beat Kitchen*
September 22 – Nashville, TN – The End*
September 23 – Atlanta, GA – The Vinyl#
September 27 – Orlando, FL – Will's Pub#
September 28 – Gainesville, FL – High Dive#
September 29 – Tampa, FL – Crowbar#
September 30 – Miami, FL – The Ground#
* with support from Shallow Alcove
# with support from Cannibal Kids
All tour info here