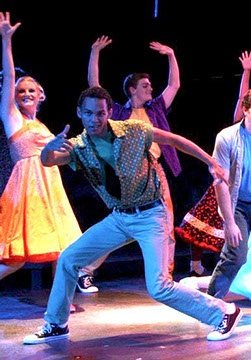 1. How did your Journey with the show "All Is Calm" come along? What Was The Audition Process Like?
There are several websites I check regularly for audition postings. So usually I'll find one and then either submit a video or attend the initial casting call and go from there. For All is Calm however, things were a little different. Back in 2019, I auditioned in the usual way for GBSC's (Greater Boston Stage Company's) production of Matilda The Musical which was set to open in the spring of 2020. Then the pandemic hit and live theatre was put on hold and the show was cancelled. This past summer I sent an email to the artistic director asking about this upcoming season and if they planned on that show for the spring of 2022 season. Unfortunately they had to choose a new season that was more compatible with the new pandemic regulations regarding live theatre. But as it turned out they were right in the middle of casting All is Calm when I sent that email so it was quite serendipitous. We arranged a zoom audition where I sang a couple songs a cappella and a few days later I got an email offering me the role.
3.How did it feel to book your first theatric performance?
Well I've been performing on stage since I was around 8 years old, both in community theatre and school productions. The earliest show being The Emperor's New Clothes at a community theatre in Grand Haven, MI (where I grew up) but that was so long ago so I don't remember how it felt to get cast the first time. I do remember the audition. My elementary school teacher, who was also in the show, saw the spark of theatre in me and recommended to my mom that I audition. I, however, was terrified and refused to go. My mom had to all but drag me, crying and hysterical, to the audition. Of course, as soon as I was on stage I felt right at home and haven't really left the stage since.
I do remember getting my first professional job though. The Wagon Wheel Theatre, a summer stock company in Indiana, holds their annual auditions in Kalamazoo at Western Michigan University which is where I got my undergraduate degree. I'll never forget the call I got for that. They do 4 musicals every summer and so they cast a whole company of actors for all of them and they play different roles in each. I auditioned for them and was cast in all 4 shows. I had always loved theatre so much but the idea that I would be paid regularly to do what I loved was astounding to me. I remember getting the call and was both crying and obnoxiously screaming for joy into the phone likely deafening the director on the other end.
4.When Auditioning for roles early in your career, What were some of your " goto" songs and/or monologues?
One of the things you learn early as an actor is that 90% of the job is auditioning. So I audition just as much now, as I did when I first started out. As for choosing audition material, it depends on the kind of audition. For a specific show, it's best to choose material that fits the style. When auditioning for an entire season or multiple shows you have more freedom and are encouraged to choose whatever shows you off the best within the allotted time- usually 1-2 minutes for monologues and a 16 or 32 measure section of a song. My long standing "go-to" song is "Moving Too Fast," from The Last Five Years. That song got me my first professional job and I still use it today. If asked for a ballad I often choose "The Bus," from Caroline or Change. As for monologues I usually go with: Rosencrantz and Guildenstern are Dead as The Player and Titus Andronicus as Aaron (If auditioning for Shakespeare)
5.What is your post show guilty pleasure?
Anyone who knows me knows I'm a proud geek; I love Video Games and Sci-Fi/Fantasy novels- favorite authors include Stephen King, Frank Herbert, Robert Jordan. As for gaming, I love RPGs. Titles like Assasin's Creed and Bioshock, anything with an immersive, well-written narrative are my favorite.
6.What is one of the funniest moments that has happened or mis-happened to you on stage?
During a community theater production when I was in high school, I left the stage during a tech rehearsal and the first thing I did was use the bathroom. When I walked out of the bathroom everyone was laughing hysterically. Turns out my microphone was left on by mistake.
7.What was your worst audition and what happened?
Some additions are better than others in general. Truly abysmal auditions often happen because of some unforeseen circumstance. The worst one I can think of was an inexperienced accompanist Who could not play my piece. So after a couple of failed attempts at the accompaniment I had to sing the song a cappella. I was nervous and flustered at this point and went completely out of tune and forgot the words and they cut me off before I finished singing. But bad auditions happen; the most important thing is to let it go and don't let it affect future auditions.
8.What is your dream performance as an actor? 
One role I have always wanted to play is George in Sunday In The Park With George. However, my dream performance would be the opportunity to originate a role for a new production.