Photo by RODNAE Productions: https://www.pexels.com/photo/photograph-of-a-woman-in-a-white-shirt-sitting-beside-cardboard-boxes-7464701/
Moving to a new country is an exciting but nerve-wracking experience. It's a big step, and you must be prepared for the transition. From visas and housing to social networks and culture, there are many things to consider when moving abroad. In this blog post, we'll cover five of the most important factors you should take into account when looking for a new home away from home.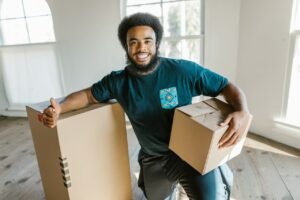 Via Pexels
Visa Requirements
The first step in relocating is understanding the visa requirements of the country where you plan on living. Different countries have different rules and regulations when it comes to immigration and residency, so it's important to do your research ahead of time. You may need to apply for a visa or permit, depending on your plans in the country. So make sure you know what documents you'll need and how to apply for them.
Housing Options
Your next priority should be finding suitable housing in your new location. Depending on where you're going, this could mean anything from renting an apartment in a major city center or buying property in the suburbs. You can use online platforms such as Zoom Property to help you identify the right area to move to and compare rental prices in different neighborhoods. By understanding the cost of living implications of your move, you can plan your budget accordingly.
Social Networks
Moving abroad can be lonely at first, but it doesn't have to stay that way! Start building up your social network as soon as possible; join local groups online or attend events near your home. This will allow you to meet people who share similar interests and experiences. Ensuring you have a strong social network can help make settling in a lot easier and less stressful, as you won't feel as isolated and alone.
Cultural Differences
Before you move, familiarize yourself with the culture of the country you're moving to. Learn about local customs, languages, and traditions so that you can better adapt to your new environment. It's also a good idea to start reading the news from that country and watching television shows or films from there. Doing this will help you understand how people think and interact, which can be invaluable for adapting to your new home. In addition, you may need to familiarize yourself with local laws, employment regulations, and healthcare systems so that you don't find yourself in a difficult situation later on.
Language Barriers
An important factor to consider when moving abroad is language barriers; even though English is widely spoken in many countries around the world, there will still be times when speaking another language might come in handy. Whether it's to make daily life easier or meet new people, basic knowledge of the local language will be essential. Consider taking classes online before you move, or make a plan to learn once you arrive at your destination.
By preparing for these five things before relocating, you can ensure a smoother transition and a better chance of settling into your new home. With the right planning, you can be sure that your move abroad will be a successful and rewarding experience.