Photo by Godisable Jacob
Day-to-night outfits are a must-have for anyone who wants to transition easily from a busy day at work to a night out. The key to creating a stunning day-to-night look is to opt for versatile pieces that can be dressed up or down. With these key items, you can create a variety of stylish outfits that will impress and make a statement. Here are some outfit ideas that are sure to impress. 
A classic blazer can be a versatile piece that can easily transition from day to night. Its timeless and sophisticated design gives an instant boost to any outfit and makes it suitable for casual and formal occasions. Depending on the occasion and the wearer's style, it can be dressed up or down. For a day look, a blazer can be paired with a t-shirt, jeans, and sneakers for a casual yet put-together look. For a night look, it can be paired with a dress, heels, and statement jewelry for a chic and elegant appearance. 
A little black dress (LBD) is a timeless piece that can effortlessly be outfitted up or down to suit any occasion, making it a great choice for a day-to-night outfit that will impress. The classic design of an LBD is simple, refined, and flattering, making it a universal piece that can go with various accessories and shoes to create different looks. During the day, an LBD can be paired with flat shoes, a denim jacket, and a tote bag for a casual yet stylish look. At night, it can be spruced up with heels, statement jewelry, and a clutch, creating a stylish and sophisticated appearance.
A wrap dress can be the perfect day-to-night outfit that is both stylish and comfortable. Choosing one made of luxurious fabrics, such as satin, is essential to ensure your wrap dress has a flattering fit and the right length. You can pair it with a cardigan or a blazer during the day and remove them when it's time to have some fun with friends at night. You can wear heels or jewelry if you want to take your nighttime style up a notch. 
Whether daytime or nighttime, boho shirts can give you an impressive and polished look. You can style them with jeans and sneakers, layer over a slip dress and ankle boots for a bohemian vibe, and tuck them into a high-waisted skirt or distressed shorts with a pair of flat sandals for a casual daytime look. For a relaxing day, you can also style boho shirts from brands like Sarah Alexandra with wide-leg pants, espadrilles, and a sun hat. These shirts can be matched at night with a mini skirt or metallic pants. Add your favorite pair of heels and statement accessories to complete the look. 
Tailored pants can be suitable for a range of occasions. They are often made from comfortable, high-quality fabrics and have a flattering fit. Tailored pants can be a practical addition to your wardrobe, as they can elevate any look no matter the time of day. For instance, you can easily go from professional to chic by pairing them with a blouse and loafers for a daytime look and switching to heels and a silk camisole for a night out. You can also style it with a sweater and sneakers for a birthday party and switch to a blazer and heels for a night event. If you are wondering what to wear while sightseeing on a sunny day, consider pairing your tailored pants with a crop top, sandals, or a graphic tee and sneakers. You can switch to a bodysuit, blouse, and strappy heels for dinner.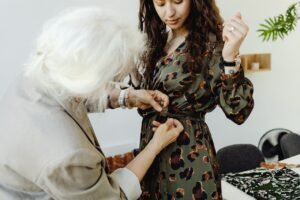 Slip dresses are typically made from lightweight and breathable fabrics, making them a comfortable choice for warm weather. They have a simple, elegant, and feminine look that can be dressed up or down. They can be worn on their own or layered over tops and t-shirts, making them suitable for most occasions. Also, slip dresses are easy to throw on and don't require much styling, making them a convenient option for busy days. You can add a denim or leather jacket, sneakers, a tote bag for the workday, jewelry, and strappy heels for your late-night activities. If you don't want to change because of your busy schedule, pair it with a blazer and loafers for an all-around look.
Versatility, comfort, and confidence are the key to a successful day-to-night outfit. Mix and match patterns and textures, opt for easily dressed up or down pieces, choose comfortable footwear, and accessorize to add some personality to your look. Remember to trust your instincts, wear what you love, and feel confident in yourself, and you'll be sure to impress wherever you go.