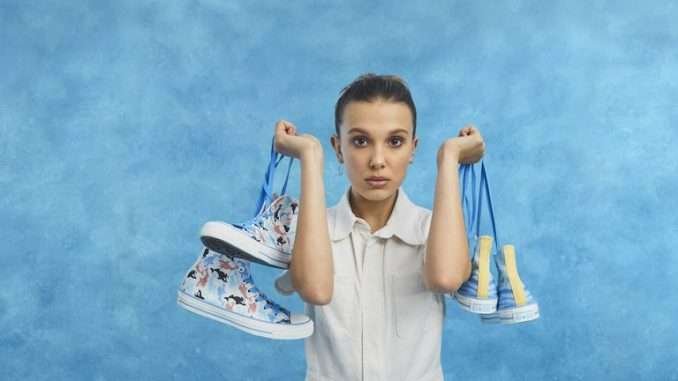 You literally can't get through a single scene of Stranger Things without a shot of a Converse sneaker. The entire party basically lives in the classic shoe, because they provide the unyielding comfort required to take on the Mind Flayer.
Seriously, just look at this shot:
They're everywhere! And remember Eleven's famous pink dress look from season one? She accessorized it with a blonde wig and high tops.
If the cast had a uniform – apart from Steve Harrington's weirdly sexy Scoops Ahoy outfit – it would be a solid pair of Chuck Taylors. So it's almost too perfect that Millie Bobby Brown is now dropping an entire collection with the brand.
Just four days after the release of season 3 (which I've already watched twice, FYI), Millie announced that on July 11, Converse will be releasing a line of shoes she designed herself.
This marks two very exciting milestones: 1. she's now the brand's youngest collaborator EVER. 2. your own personal shoe collection is about to get waaaay better.
The 15-year-old actress picked out the colors and designs of the line herself, which is meant to represent her love of whales and the ocean. "To choose the colors and material and print for the shoes was really specific and special to me," she shared on Converse's Instagram.