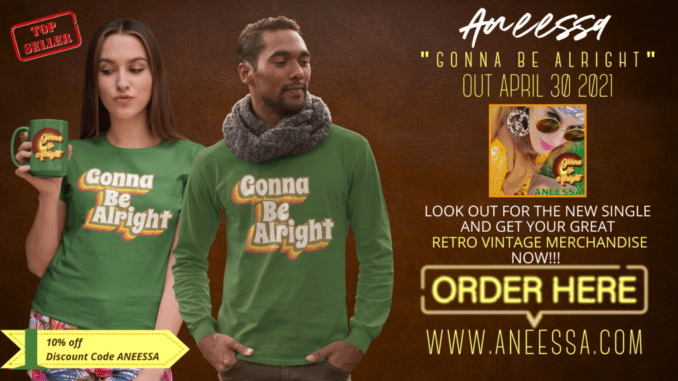 Independent smooth jazz star, Aneessa has just launched her latest line of 70's-infused fashion as an ode to the era she's inspired by the most.
The established French singer-songwriter has been well known on the smooth jazz/adult contemporary music scene for some time now. After years of releasing records and establishing a number of business ventures, Aneessa is finally decided to voyage into the world of fashion with her latest store "Aneessa Merchandise". The shop will contain a range of clothing items such as T-shirts, jumpers and even mugs. Each potent piece pays homage to her favorite era of music, the 70's.
This latest inception from the singer comes shortly after the release of her latest single "Gonna Be Alright". The feel-good anthem is styled in the iconic sound of the soulful music 70's and is brimming with the raw charisma that the era embodied.
"Gonna Be Alright" merchandise collection is a natural extension of her new music release!  Fusing wholesome 70's-inspired design to modern fashion pieces.
She notes that her work is for all the dreamers out there. Ultimately a means of giving hope to her listeners in a time when we are in need of a little positivity the most.
The seasoned singer is well-known for her contributions to the smooth jazz and contemporary realm. For decades now she has put out countless boundary breaking records that have revived the timeless sound of that era to a modern audience. A serial entrepreneur, she has formed multiple businesses including the acclaimed music magazine "Pump it Up!".
Aneessa Merchandise is just another addition to her long-list of ventures that hopes to inspire and empower people to feel better about themselves.
To know more about Aneessa, please visit:
Follow Aneessa on social media
http://www.facebook.com/AneessaMusic
http://www.instagram.com/AneessaMusic
Subscribe to Aneessa YouTube Channel
https://www.youtube.com/channel/UC6xrOhpAnP-ebXYlFNBUYWA