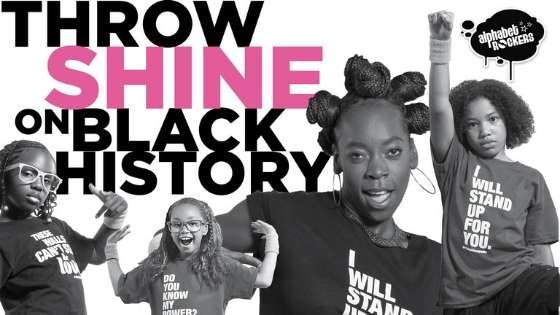 People often want to know what brought a "white girl from Harvard" (Founder Kaitlin McGaw) and a "black drummer/actor/beatboxer from LA" (Music Director Tommy Shepherd) together to make Alphabet Rockers. In a country that struggles with inequality, this question makes sense – the duo perhaps are from different worlds by place/gender/race. But the music that moved them was the same. They both wanted to raise up voices for change. They both believed in the power of children to be tiny changemakers. Their passion is to create positive messages and modern beats to help children love who they are, fight bias, and celebrate difference.
Based in Oakland, CA, this dynamic team has brought joy to tough topics through hip hop since 2007. Alphabet Rockers are known as the premier children's hip hop artists who focus on social change and racial justice. Partnering with thought leaders on anti-bias and child development from U.C. Berkeley and World Trust, they create empowered, engaging concerts and activities for young children, families, and educators. This group is consciousness in motion, working to build a platform for institutional change through children's media. Alphabet Rockers have a fresh, contemporary sound. This is due, in part to working with artist incubator, Zoo Labs and Grammy-winning producers in Oakland, CA.
Their new album, "Rise Shine #Woke" raises critical and joyful conversations around social justice for our kids and families.
Emmy-winning comedian W. Kamau Bell (CNN), states that this music is the "soundtrack for the lives of the future people that we want in the world. It creates the culture that is the reality of the world we want." This follows the successful path of previous release "The Playground Zone," which was featured on the front page of the San Francisco Chronicle, hit the charts with KidsPlaceLive on Sirius XM, and inspires thousands of children each month to speak up about how they can change the world. Their vision and impact attract financial support from funders including the East Bay Community Foundation, the Akonadi Foundation, the City of Oakland and the Clorox Company. Funders who want to hear new works reflecting the brilliance of our young children, partner with Alphabet Rockers to make a soundtrack for the peaceful and just world we want to see. From national stages like Wolf Trap Center for the Performing Arts to community engagements, the group performs hundreds of shows annually. Each performance is an energetic, authentic hip hop experience.
Alphabet Rockers define hip hop as a "freedom culture" and each concert is an opportunity for positive change. People come to the concert with a common goal of entertainment and find they leave as a community, seeing and celebrating their differences. In addition to concerts, recordings and videos, the Alphabet Rockers teaching artists dedicate thousands of hours of educational services to schools, libraries, and communities.
Get moving to music that moves you. Engage in the conversation with Alphabet Rockers through community, connection, and hip hop.
Video produced by Nino Fernandez at the 10th annual Life is Living Festival. Featuring young movers from Destiny Arts Center and young leaders in Alphabet Rockers.
Press and radio contact: Beth Blenz-Clucas, Sugar Mountain PR, 503-293-9498, beth@sugarmountainpr.com
alphabetrockers.com | @alphabetrockers
***From GRAMMY-nominated album Rise Shine #Woke (2017)***
iTunes: https://itunes.apple.com/us/album/ris…
Amazon: https://www.amazon.com/Rise-Shine-Wok…
Bandcamp: https://alphabetrockers.bandcamp.com
Website: http://alphabetrockers.com
Facebook: http://www.facebook.com/alphabetrockers