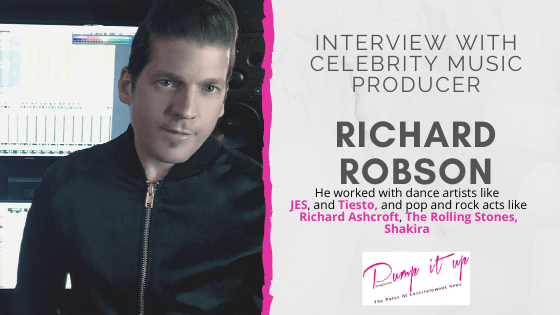 Great to have you on Pump it up Magazine. Please, introduce yourself?
Hi Pump it up magazine, my name is Richard Robson and I'm a British music producer. You might be familiar with some of my work with dance artists like JES, and Tiesto, pop and rock acts like Richard Ashcroft, The Rolling Stones, Shakira, and movies like Batman Begins, Batman The Dark Knight, Bee Movie. and Home.
2. How did you get started in the music business?
I started as a musician in London. I was in a few different bands which had some label success, but I made a name for myself as a session player. I quickly moved on to being the producer or musical director for tours. This meant working closely with artists and managers which led to co-writing with artists demoing song ideas. Once I started working on the production side I focused on developing those skills. After a lot of searching and interning, I found a role as an editor and assistant to some of the best producers in the U.K.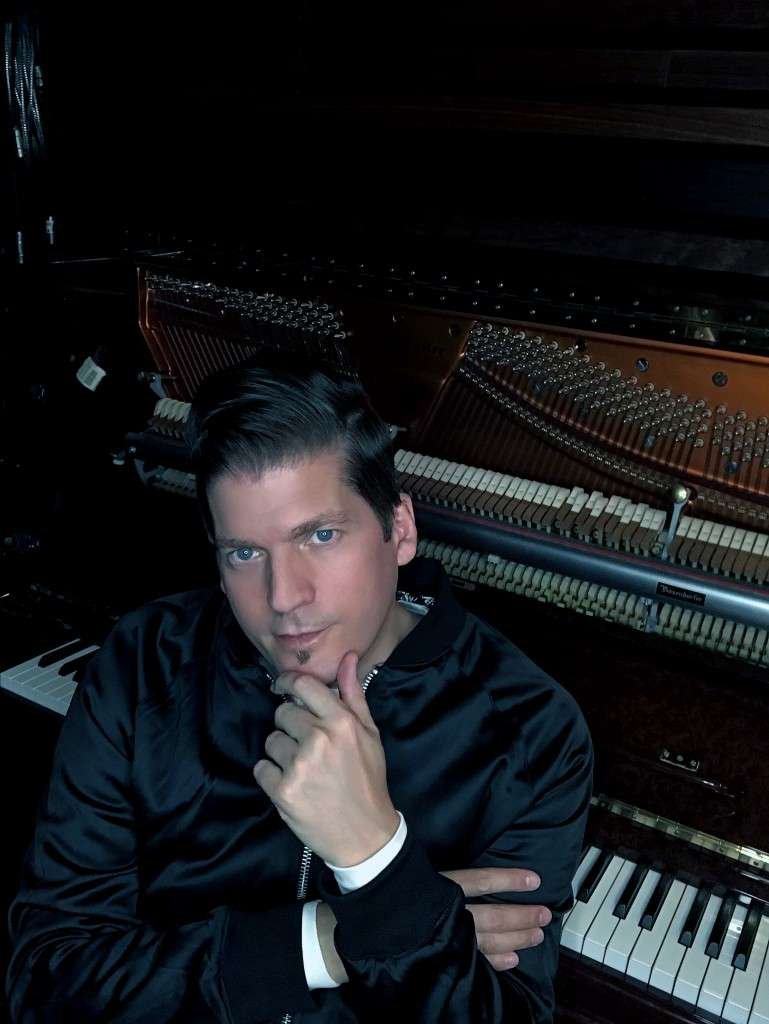 3. What makes your productions unique? And how would you describe it? (genres/sub-genres)?
I try to connect with the artists and their music and find the best way to help them realize their vision. Some producers have a signature sound or style, but I work differently, focusing on the best way to frame the artist's creativity. I've worked with so many artists in most genres and I think the common thread in my work is keeping the focus on the artist and their songs. Great production is something you don't even notice.
Music should sound just like it does in the artists head!
4. Who are your biggest musical influences? And any particular artist/band you would like to collaborate with in the future?
My parents both loved music so I grew up listening to a wide variety, from gangster rap and rock to blues, electronica, and folk. Every time I found something else I loved I would think "this is my new favorite". So much of it influenced me so it's hard to narrow it down to any one thing, but I'm still always looking for my next "new favorite"!
5. Which is the best moment in your musical career that you're most proud of? (awards, projects or public performances etc)
That's a hard one! I think it's very important to only work on projects that you're passionate about. I try to make sure that there's something I love about everything I do.
I worked on a song called "Hold On" with U.S electronic music legend JES which received a Grammy nomination in 2015.
I worked on most phases of the development of the song from the writing through to the final production. It was released on JES' label Intonenation Records, (which I'm the creative director and VP of A&R for) so it was really rewarding to have been involved in every phase of a Grammy-nominated songs life.
Also, getting nominated for a Golden Reel as the music editor on Batman Begins (Warner Bros) was amazing. That was a challenging project for everyone involved so it was great to have the industry recognize the quality of work that had gone into producing that score.
6. What advice would you give to aspiring musicians?
The music industry is changing faster than ever and there's always something new to be aware of. I think many aspiring artists are overwhelmed by trying to build their fanbase across all the different social media platforms. It's much more effective to focus on the platform(s) your fans are most receptive to you on.
Concentrate on building a solid fanbase where ever it's working instead of trying to dominate everywhere!
7. If you had one message to give to your fans, what would it be?
There's more music being made than ever, but great music is still a rare thing. No matter what your style is, there's always an audience for meaningful, sincere music performed by authentic artists, so never give up. Focus on being your best self and don't try to fit in with the changing fashions.
8. What's next for you? Any upcoming projects or tours?
I've been producing JES' future-spective album Memento (Magik Muzik) this year which has already achieved two #1 dance genre singles. We still have a little way to go with it, and we also have an acoustic album which we'll be recording in some special locations over the next few months. We've also been working on a brand new album concept and tour for JES which will be happening in 2020, so stay tuned for a very exciting new year!
To Know more about Richard Robson's work, please visit:
http://www.intonenationrecords.com/
https://magikmuzik.complete.me/belong
Follow Richard Robson on Facebook: