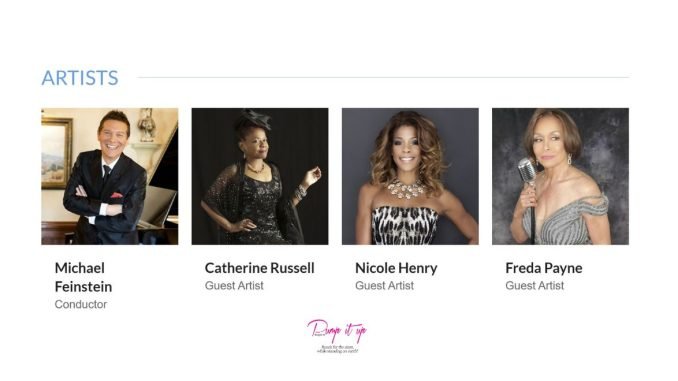 Los Angeles, CA – Prepare to be transported to a world of timeless soul music as the legendary Freda Payne graces the stage at the enchanting LA County Arboretum. This highly anticipated music event promises an unforgettable evening of soul-stirring performances amidst the natural beauty of the arboretum grounds.
Mark your calendars for June 24, 2023, as gates open at 5:30pm for picnicking, and the concert commences at 7:30pm.
Freda Payne, a true icon of soul music, has captivated audiences around the globe with her mesmerizing voice and undeniable talent. Known for her chart-topping hits such as "Band of Gold" and "Bring the Boys Home," Freda has established herself as a powerhouse vocalist and a beloved figure in the industry. With a career spanning over five decades, her music continues to resonate with fans of all ages.
Joining Freda Payne on this special night will be a lineup of exceptional guest artists, including Catherine Russell and Nicole Henry. These extraordinary talents, known for their captivating performances and soulful interpretations, will add their own unique flair to the evening's repertoire, creating a collective experience that is not to be missed.
Guiding the musical journey of the night will be none other than the esteemed conductor, Michael Feinstein. A renowned musician and ambassador of the American Songbook, Feinstein's expertise and passion for music will infuse the performance with a touch of brilliance and finesse.
The LA County Arboretum provides the perfect backdrop for this spectacular event. Nestled in the heart of Los Angeles, the arboretum features 127 acres of lush gardens, serene lakes, and majestic trees.
As gates open at 5:30pm, attendees are invited to immerse themselves in a delightful picnic experience, surrounded by the tranquility of nature. Share unforgettable moments with loved ones while savoring delectable treats, setting the stage for a truly magical night.
At 7:30pm, the concert will commence, with Freda Payne and her esteemed guests taking center stage to deliver performances that will resonate with the audience's hearts and souls. With their dynamic stage presence and unmatched vocal abilities, they will breathe new life into classic hits and captivate the crowd with their soulful renditions. Prepare to be moved as their timeless music and powerful energy fill the air, creating an atmosphere of pure musical bliss.
Tickets for this highly anticipated event are selling fast, as fans eagerly await the chance to witness Freda Payne and her talented guests' legendary performances amidst the serene beauty of the LA County Arboretum. General admission tickets can be purchased online:
Join us on June 24, 2023, as Freda Payne and the LA County Arboretum come together to create an unforgettable night of soulful melodies and cherished memories. For further information and updates, please visit the event's official website at https://pasadenasymphony-pops.org/concert/divas-through-the-decades/ or visit Freda Payne website: www.Iamfredapayne.com
follow Freda Payne on social media – Instagran: www.instagram.com/iamfredapayne 
From Ella Fitzgerald, Billie Holiday and Nina Simone to Aretha Franklin, Natalie Cole, Tina Turner and beyond – the POPS celebrates powerful black women who shaped the American Songbook with timeless hits 
Natural Woman, This Will Be, I Put a Spell on You, Proud Mary,
I'm Every Woman
 and many more!