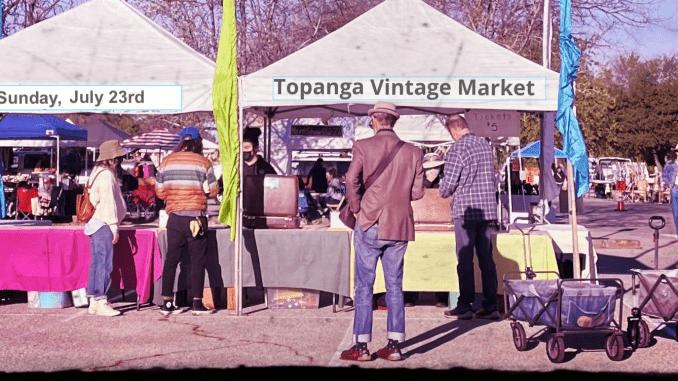 If you're a vintage enthusiast seeking a treasure trove of unique finds, the Topanga Vintage Market at Pierce College in Woodland Hills, California, should be on your must-visit list. This hidden gem of a market is a haven for antique collectors, vintage fashion lovers, and anyone who appreciates the charm of yesteryear.
Located at the Mason Ave entrance of Pierce College, near the intersection of Victory Blvd and Mason Ave, the Topanga Vintage Market is easily accessible and offers ample parking for visitors. As you approach the market, you'll be greeted by a bustling atmosphere and a diverse crowd eager to explore the various stalls.
One of the standout features of the Topanga Vintage Market is its sheer size. With over 180 vendors sprawled across the spacious outdoor grounds, there is no shortage of treasures waiting to be discovered. From antique furniture and home decor to vintage clothing, accessories, and collectibles, this market truly has something for everyone.
Navigating through the market can be an adventure in itself. Each booth is thoughtfully arranged, showcasing a myriad of items from different eras and styles. Whether you're searching for a retro dress, mid-century furniture, or nostalgic vinyl records, you'll find yourself captivated by the array of offerings. The sellers are knowledgeable and passionate about their merchandise, often willing to share fascinating stories about the origins and histories of their items.
While the variety of vendors and products is impressive, it's worth noting that prices at the Topanga Vintage Market can be somewhat higher compared to other vintage markets. However, this is to be expected given the quality and uniqueness of the items available. Bargain hunters may need to exercise their negotiating skills to secure the best deal, but the hunt itself is part of the fun.
Beyond the incredible vintage finds, the market also boasts a vibrant atmosphere that adds to the overall experience. Live music performances provide a lively backdrop, and the mouthwatering aroma of food trucks invites visitors to take a break and refuel. The market's family-friendly environment ensures that everyone can enjoy a day of exploring and shopping.
Whether you're a seasoned vintage enthusiast or simply curious about the past, the Topanga Vintage Market at Pierce College is a must-visit destination. The charming location, diverse selection of vendors, and vibrant atmosphere make it a haven for lovers of all things retro. Prepare to be enchanted as you immerse yourself in the nostalgia and uncover hidden treasures that breathe new life into forgotten eras.
Always the 4th Sunday
Jun 25 • Jul 23 • Aug 26 • Sep 24 
Oct 22 • Nov 26 • Dec 24 tbd
Hours are 7am to 2pm – early birds welcome
Over 200 of LA's top vintage vendors, plus artists, music & food trucks