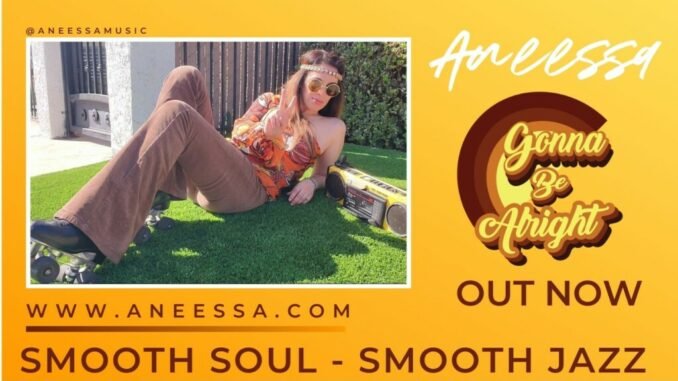 (April 30, 2021 / Los Angeles) French Singer/Songwriter Aneessa fled her home on a one-way to ticket to L.A. to claim the love of her life and a fresh start in her work passions. She has triumphantly succeeded with two Top 5 Billboard Most Added singles at smooth jazz radio with the promise of more to come. Filled with gratitude and ready to prove it – on the good foot – Aneessa is releasing her personal anthem of reviviscence, "Gonna Be Alright," on April 30, 2021.
Co-composed and co-produced with her husband Michael B. Sutton (Michael Jackson, Smokey Robinson, Diana Ross), the song boasts a gentle four on the floor pulse, sexy guitar-bass tandems and a liberating message sure to incite line dances and skate parties wherever it is heard.
"Gonna Be Alright" will ARRIVE with a dazzling, colorful and breezy music video also directed by Aneessa and Michael B. Sutton. From her driveway and backyard to the swimming pool, the bright, bubbly clip depicts people young at heart, fancy free and in utter defiance of letting the troubles of their worlds weight them down.
"Everybody goes through hardship," Aneessa explains. "When you are tormented, you think you will never achieve your dreams 'Gonna Be Alright' is a sonic boost for your spirit meant to remind that when you have a clear vision, no one can stop you. Then your life can truly take flight!"
"Gonna Be Alright" follows recent successes for Aneesa "Just to Be with You" and her 2020 remake of Soul II Soul's "Back to Life." It is also the lead-in single for her U.S. debut album, Satisfied (slated for early summer release). On her website https://aneessa.com/ , eye-popping merch abounds in a sunny `70s vibe – clothing, mugs, towels and posters – inspired by the titles and themes of all ten songs from Satisfied. Aneessa is also CEO and publisher of the magazine "Pump it Up!" dedicated to fashion, beauty, entertainment and lifestyle.
All of the bon vie is sunnily indicative of a life purpose planted within Aneessa at birth. "My name, Aneessa, means, 'The person who is good company,'" she shares.
"I want the world to know that everything is 'Gonna Be Alright.'  To be perfectly honest, I wish I could have had this song to sing earlier in my life!"
Written by A. Scott Galloway
STREAM NOW https://smarturl.it/gonnabealright
Follow Aneessa on social media
http://www.facebook.com/AneessaMusic
http://www.instagram.com/AneessaMusic
Subscribe to Aneessa YouTube Channel – Don't miss out on her LIVE on YouTube This FRIDAY 8 pm pst
https://www.youtube.com/channel/UC6xrOhpAnP-ebXYlFNBUYWA
Don't forget to sign to Aneessa's newsletter for giveaways (merchandise and more)
Sign in here >> 
https://bit.ly/3azDIj5