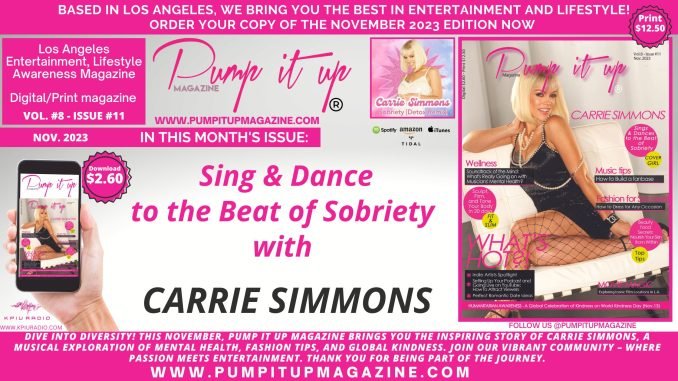 Dear Readers,
In this month's edition of Pump It Up Magazine, we are excited to bring you a diverse range of content that is sure to keep you engaged and entertained. From the world of music to wellness, fashion, and everything in between, we've got you covered.
On our cover, we have the incredibly talented Carrie Simmons, who not only sings but also dances to the beat of her own rhythm. Her journey and sobriety story are truly inspiring, and we can't wait for you to dive into her interview.
In the music section, we explore the soundtrack of the mind and delve into what's really going on in the world of musicians' mental health. You'll also find valuable tips on how to build a fan base and sculpt your body in just 20 days.
Fashion enthusiasts, don't miss our feature on how to dress for any occasion while staying slim and beautiful. We've also gathered some food secrets to help you nourish your skin from within.
Our Indie Artists Spotlight continues to shine on talented musicians, and we've put together the perfect romantic date ideas for those looking to add some romance to their lives. Plus, we take you on a journey exploring iconic film locations in the heart of Los Angeles.
As we celebrate Humanitarian Awareness on World Kindness Day, we bring you stories of kindness from around the world. It's a global celebration of compassion and goodwill that will warm your heart.
We hope you enjoy this issue of Pump It Up Magazine, and we look forward to bringing you more exciting content in the future.
Thank you for being a part of our wonderful community.
Sincerely,
Anissa Sutton – Founder & Editor in chief
Hey there! This month's Pump It Up Magazine is packed with diverse content to keep you entertained. Check out our inspiring cover star, Carrie Simmons, who shares her journey and sobriety story. Dive into the world of musicians' mental health, get tips on building a fan base, and sculpt your body in 20 days.Fashionistas, discover how to dress for any occasion while staying slim and beautiful. Unlock food secrets for radiant skin from within.…