Traditional rap and country music are some of the most popular genres today. But when life gets boring you can mix the two styles to create something new and different. Hip hop and country may seem like two different worlds, but the truth is its just different ways to get messages across and appeal to different audiences. Nashville really isn't that far away from Atlanta! Country rap is a perfect fit for you if you are looking to explore something new, or you are wanting to combine your loves of country and hip-hop songs together.
Country rap is a style of music that combines hip-hop vocals with the harmonic language and song structure of country music.
Also known as country hip-hop or hick-hop, it has fostered Billboard Top 40 hits by artists like Lil Nas X and Kid Rock.
Even with music being analyzed by so many of its listeners regarding its sound, rhythm, and artist's lyrics, some songs have till today caused a bit of chaos about where they should belong.
Is "Shake Ya Hiney" by XP Dinero a country song or a rap song? Depends whom you ask.
Hip-Hop/Rap sensation XP Dinero released his massive tune Shake Ya Hiney early this year. The track is a true definition of the artist's versatility and ability to play around with his craft to create something unique. With an inspiration hidden behind fun and beauty, Xp Dinero's track is a blend of two styles but leaning more towards his most outstanding strength of Hip-Hop music.
Shake Ya Hiney is indeed of another level of creativeness, and it speaks loudly with its unique vibes and groundbreaking production.
This Country/Rap has a unique touch, incorporating some country elements into XP DINERO's distinctive modern rap sound.

The result is a very catchy and diverse sound, which opens up a lot of creative possibilities for this talented hip-hop artist 
Xp DineroShake Ya Hiney by the Miami Hip-Hop star settles clearly as a mixture of two genres but uses elements of country to deliver its fantastic art of sound.
Shake Ya Hiney is another anthem of self-admiration to those ladies that have been blessed with a Hiney to shake. Even when the world is still going through tough times, there is a need for such songs that will bring back the fun in music. Shake Ya Hiney is precisely the kind of song that will turn the dancefloor, clubs or even your block party into an ultimate experience that will never be forgotten.
Download Shake Ya Hiney from XP Dinero's music streaming pages, have it on your playlist, and turn your day of fun into an eventful dance challenge.
And don't miss out on the exclusive interview with XP DINERO on the print/digital edition – available February 5th
Spotify: https://open.spotify.com/track/5PjVKEaKlrKaz8M5QeVjQ0?si=8614d736939f4e56
YouTube: https://youtu.be/_W_Z_KimhX8
Apple Music: https://music.apple.com/de/album/shake-ya-hiney-single/1603729535
If you like Country/Rap music with a stronger focus on catchy melodies and creative new ideas, then Shake Ya Hiney is going to be great for you.
ARTIST BIOGRAPHY: XP DINERO
With a much greater conception of R&B and Hip-Hop genres but refuses to attach any limitations to his art, talented artist XP Dinero is the protagonist of his own craft.
Growing up as a young lad with so much interest in music, XP Dinero played in different bands and performed on a couple of stages and shows. His style and ingenuity result from his hard work and grooming from a couple of Grammy Award-winning producers that helped him harness his craft. Even with the slippery music industry, Dinero realized his bright spot with the Washington Nationals the year they won the World Series. During the event, he got the chance to perform one of his tracks that he had previously written for the team. This song became an anthem that landed him on several different media stations in Washington as well as in Houston. He traveled and performed at various venues, opened up for a major on tour just before the Corona pandemic derailed his achieved success, and slowed the whole process.
Hailing originally from Washington DC, XP Dinero resides currently in Miami, a city known for its multi-cultural influences of Latin America, white sand beaches, and diverse music scene. Just
like the variety found in Miami, Dinero draws a lot of his creativity from the city vibe, its unique scenery, the enormous palm trees, and the sounding Latin music scene. This disparate has inspired him to create music without being in a box of one genre due to the so many different cultures and sounds in the city, as well as the ability to borrow from other cultures in order to add a speck of flair to his already mellow sound.
Enthusiastic about riding motorcycles and doing extreme stunts, XP Dinero had a tough time finding that one stage name that he would move with as he ventured into his music career. Initially known by X Factor, the name didn't stick so long till the prodigy switched to XP. However, being misinterpreted for the famous Microsoft Windows operating system, Dinero had to add a better ring to his XP, hence his current alias XP Dinero.
Renowned rapper Drake is one of the protagonists of Dinero's music career; the versatile artist appreciates the style with which Drake handles fame and the media around him. For many artists, the big stage makes them vulnerable since everyone has an opinion about them at all times. Regardless of what you do, you always have to be desensitized to a certain degree just to avoid any backlash. With this kind of knowledge, Dinero has been able to strive in the fast-paced music industry for a while now. Other American creatives that have inspired a part of his craft include; James Brown, Beyonce, Kanye West, Andre 3000, Jay Z, Pitbull, T-pain, Pharrell, and Bruno Mars. These great performers have influenced him in different ways, each with a unique ability that complements their personality and speaks multitudes to Dinero's promising music career.
Advancing towards doing music and entertainment that will be able to make a good living for himself, XP Dinero strives at staying healthy while pushing everyone around him to go after their dreams. Friendly and benevolent, he finds a lot of joy through changing other people's lives for the best and leading them on their road to success.
In preceding times during the historical protests of the Black Lives Matter across America, Dinero selflessly participated in the protests as he matched together with a multitude of people throughout metro Atlanta. This was his first protest, but he describes it as a groundbreaking experience that got everyone, regardless of race and age, to draw towards one exact cause.
Even with a golden heart, Dinero also suffered a setback through the Covid pandemic that took most of the world into total lockdown. During this tragic time, he lost his manager and friend by then, who had been an anchor in many areas of his music journey. This was a significant blow for him, but he refused to give up and has since then focused on getting back to his music while spending nights and days building his craft. Currently, he has created and recorded a lot of music which has turned his discography into a museum of hits and making it hard for his fans to get enough of him. His latest track, "Shake Ya Hiney," released earlier this year, is one of those hits you should check out today.
To check out XP Dinero's discography, follow him on all his social and music streaming pages;
YouTube: https://youtu.be/_W_Z_KimhX8
Spotify: https://open.spotify.com/track/5PjVKEaKlrKaz8M5QeVjQ0?si=8614d736939f4e56
Instagram: https://instagram.com/xpdinero?utm_medium=copy_link
Apple Music: https://music.apple.com/de/album/shake-ya-hiney-single/1603729535
Twitter: https://twitter.com/xpdinero?s=21
XP Dinero Discography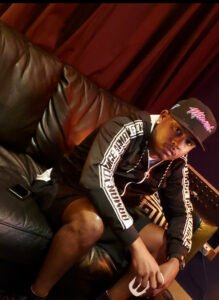 Shake Ya Hiney is one of Dinero's latest studio releases that started out with him spending some fun time with friends as he lived like the true jokester he is. The title of the song sprung from a few conversations, and he immediately found a beat that would, later on, complete his quest. He was later on gifted studio time at one of his favorite studios in Miami for Christmas, where he went on to record the unique track that so many of his fans loved. His father is one of the so many people who love this track despite the fact that he doesn't enjoy a lot of Dinero's past releases.
Speeding (feat. FACE): Released at the end of 2021, the track features a blend of R&B and Hip-Hop genres with sounds of artist FACE adding his sound to make a perfect collaboration.
Ignite My Fire: One of his greatest hits in 2021. The song displayed XP Dinero's ability to flow and write rhymes that have not been heard for a while. The Hip-Hop filled beats in the track were well produced with a bars in all his verses.
XP expresses himself vividly in the genre of Hip-Hop, although he is still capable of being an R&B artist when it comes to some of his tracks. His style is left to you the fans to find out which genre fits him best.
Other tracks from XP Dinero's Discography; Fastlane (Feat. Face), Juicy Mango, Running 2 U