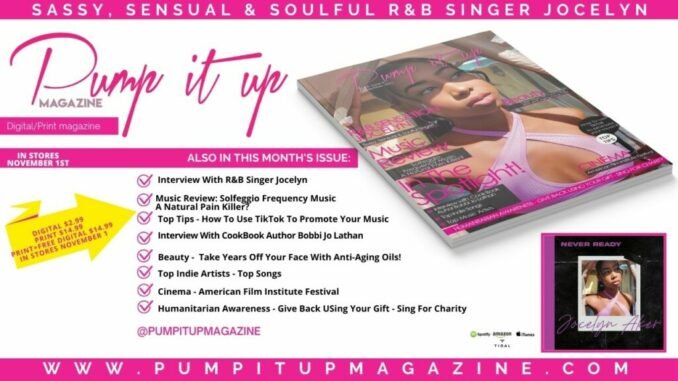 Greetings Pump it up Magazine Readers.
As we move further into the fall toward the Holiday Season we'd like wish everyone a Happy Thanksgiving and please be well and safe.
On the cover this month is the lovely , sensual and sassy R&B singer Jocelyn! Her new and sassy single " Never Ready" is out now on all digital platforms and it's "Fire"!!
Influenced by Prince and Mariah Carey, this is Pure and solid R&B music for your soul!
Are you dealing with chronic pain, insomnia, anxiety? Then you might want to turn to page 8 and see how music can connect to each of your chakras via "Solfeggio Frequencies." At 174 HZ Solfeggio music works directly on those chakras to support your healing process.
In the Spotlight we feature our favorite artists, the Studio Guitar maestro Louie Shelton, who's guitar strings have graced the music behind the industry's greatest stars. His new album is a tribute the incomparable Stevie Wonder. The title called Higher Ground is just that. It's Louie at his best on higher musical ground!
Also in the spotlight is the French beauty and talented Aneessa who's smooth jazz vibe puts you in the mind of Sade. Aneessa has come to America on a mission to share her unique sound and musical acumen with all of us!
We want to introduce you to Bobbi Jo Lathan, author, actor, singer and songwriter, and phenomenal 5 star chef. Her new cookbook titled, " An American Gal's Cookbook" definitely fits her alter ego as the " Skillet Diva". You've gotta try some of her recipes this holiday season! Hmmm, hmmm, Lord ham mercy! Delicious southern cookin!
And be on the lookout for the introduction of Black Seed Oil from the new company West End Organix. It's a black seed oil that's full of healthy benefits.
Check out our top tips page and more!
And don't forget to tune in to Pump It Up Magazine Radio, where you can hear the best of indie music and more!
Anissa Boudjaoui
Jocelyn New Music https://distrokid.com/hyperfollow/jocelyn/never-ready
On the cover this month is the lovely , sensual and sassy R&B singer Jocelyn! Her new and sassy single " Never Ready" is out now on all digital platforms and it's "Fire"!! Influenced by Prince and Mariah Carey, this is Pure and solid R&B music for your soul! Are you dealing with chronic pain, insomnia, anxiety? Then you might want to turn to page 8 and see how music can connect to each of your chakras via "Solfeggio Frequencies."In…