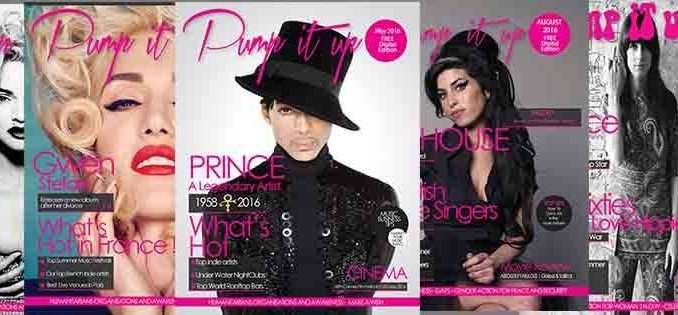 YOUR ONLINE FEATURE $129 :
1.) An Int
erview about your any song, band, brand, business, book, event, album, video, film, you want promoted or exposed
2.) Posted in our Online Magazine www.pumpitupmagazine.com for life, over 10000+ monthly visits and views – increasing daily
3.) Promoted by our promotional staff to our subscribers, thousands of indie lovers, followers, musicians, promoters, fans and labels around the globe throughout our numerous social networks
4.) All social platform links integrated into your post to quickly and easily promote to your fans through your profiles
5.) Guaranteed keyword indexing of your band/artist name which helps your Google presence (SEO, Search Engine Optimization and link backs)
5.) Social Media Promotional Video designed and shared to all our social media platforms (includes 3 photos and texts)
What we need from you:
3 to 4 photos, Social media links, , buy links, and website.
FREE BONUS* : We will also create an attractive social media promo video with 3 photos (5 to 20s) (Value $129) Video sample 
*Offer ends March  2020
---
OPTIONAL :
Write-up:
If you would like our editors to write a professional Press Release for your submission (up to 600 words)
Professional Press Release from our Editors
Single $129
EP $169
Album $199
Book from $599 (250-650 words)
Professional Biography from our Editors
Social Media Post:
if you would like to have another video clip of your music  posted on our social accounts to gain better interaction
Instagram Video Post $25.00
Instagram IGTV Video Post $25.00
Instagram Story Post $25.00
Twitter Video Post $25.00
Facebook Video Post $25.00
LinkedIn Video Post $25.00
Spotify
Get your song added to Pump it up Magazine SPOTIFY PLAYLIST INDIE MUSIC DISCOVERY
$50 (original price $99)
BANNER ADS: