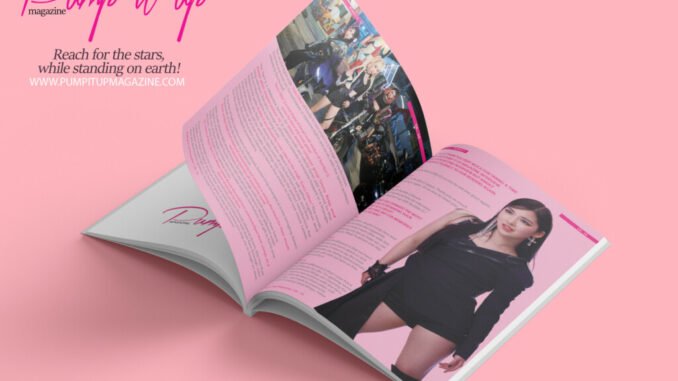 ONLINE FEATURE – REVIEW – INTERVIEW – PRESS RELEASE
ONLY $129
WEB BANNER
We offer banner ad placements. The ads will provide music-related companies, broadcasters, artists and their song(s) more visibility among a high concentrated group of music-industry tastemakers. 560,000 +  and continues to grow.
Top Banner Ad Placement (Leaderboard): 780 x 90 pixels – Monthly Rate: $750 – front page top of website
Front home page  1200*800 pixels – Monthly Rate: $550 (below news section)
Section (Home Page): 300 x 300 pixels (CD COVER IMAGE FOR EXAMPLE) – Monthly Rate: $350 linked to your music page (Spotify-Amazon-Aple..)
SPOTIFY EMBED CODE ON FRONT PAGE  Weeekly Rate: $150 linked to your music link(Spotify-Amazon-Aple..)
Top 20 Artist Spotlight: 280 x 280 pixels – Monthly Rate: $75 (KPIU RADIO)
To place your ad on www.pumpitupmagazine.com platform, please email us at anissa@editions-la.com
THE FRONT COVER IN THE PRINT/DIGITAL EDITION OF PUMP IT UP MAGAZINE  includes:
Interview on 6 pages with 2 to 8 photos 
WITH
 Press Release – Biography and Review Written (if you already have them, we can use them or/and edit them)
 Press Release – Biography and Review posted on the front page website www.pumpitupmagazine.com and news section
We create a social media promotional video: Watch our playlist on youtube https://www.youtube.com/playlist?list=PLY2Ufbv5BQWdJt1uz05XUOolnH3ikPD_d
Promotional  video designed, formated (Story-Post formats) and shared on all our social media pages (Facebook, Instagram, Twitter, Pinterest, LinkedIn, Youtube)
Newsletter designed and sent to our 20k subscribers (including music industry professionals)
Banner designed with one of your photo, Pump it up Magazine logo and links to your social media and website.
Your banner will be redirected to your store, newsletter or to your music distributors : Spotify, Amazon, iTunes, etc.. and your Website
Your radio drop or radio commercial on pump it up magazine Radio (For businesses we create a radio commercial)
Song(s) included on our Spotify playlist
Interview included on YOUTUBE and our PUMP IT UP MAGAZINE PODCAST (contact us for details)
OUR PARTNERS
INTERVIEW FOR MUSIC ARTISTS
INTERVIEW WITH THE SMILEY J. ARTIST ZONE PODCAST
INTERVIEW WITH BIG CORN SMOOTH JAZZ CAFE –  WOSD RADIO
INTERVIEW SOUL ON SOUL WITH  PHINESSE
MEDIA KIT PUMP IT UP MAGAZINE   2022 
A great place if you are about to promote your band, brand, or business!
We, at Pump it up magazine represent and promote bands, brands and businesses
with more glitz than a just a normal news magazine,
We give you a prestigious look, and media tool to work on!
Entertainment, Lifestyle and Humanitarian awareness Magazine. Online,Digital and Printed Magazine available : Amazon – Barnes &Noble, Fnac, Glose, and more…
Great place if you are about to promote your band, brand, or business!
CLICK ON THE IMAGES BELOW TO SEE OUR DIFFERENT OPTIONS
Pump It Up Magazine to Make Mainstream Launch Following Seven Years of Steady Growth and 20,000 Solid Subscribers.
Pump It Up Magazine is the colorful and vibrant print/digital and online magazine showcasing dynamic up-and-coming talent from around the globe!
Our team of hand-picked industry experts thrive on the pulse of emerging culture to be your one-stop source for what's going on.
Pump It Up Magazine always has something fresh and exciting for you- from up-to-the-minute tips to golden information, opportunities.
Ad placement is incredibly important to your campaign. Getting it right can mean the difference between little return on investment and huge gains in revenue.
Grab a copy today and find out why over 20,000 subscribers are on team – Pump It Up!
Entertainment, Lifestyle and Humanitarian awareness Magazine. Online,Digital and Printed Magazine available : Amazon – Barnes &Noble, Magcloud, Fnac, Glose, and more…
PREMIUM PACKAGE: 12 months commitments
Pricing Option: $1299/month or $4,999 in full
Full Page Premium Print Ad Placement back cover on each printed edition of PUMP IT UP MAGAZINE
Video production commercial (30sec.)
Social Media video and post designed Posted on all our platforms (instagram,Facebook,Twitter,Youtube,Linkedin, Pinterest)
eNewsletter Ad designed and sent to our 20k subscribers
Web homepage banner ad placement on the website front page
Your print copy delivered to your door